Free Workouts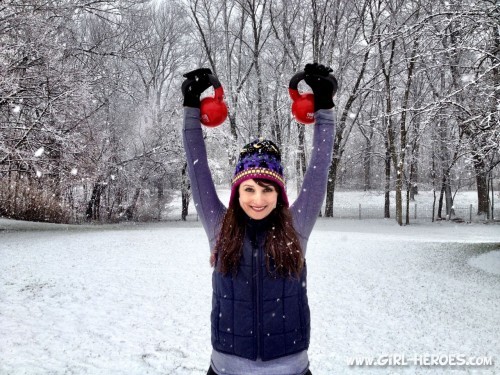 Thank you for checking out the Girl Heroes workout index. I've been writing this blog for almost 4 years so please know that my opinions, approaches, and fitness methods have grown and evolved over that time as I'm constantly trying to learn and apply new knowledge. I started out training for figure competitions and soon got my personal training certification through ACSM. Later, I discovered kettlebells and, after training with Senior RKC, Doug Nepodal, for a year, I attended and passed the RKC. I've also gone through the TRX professional education course and continue to read and attend seminars as much as possible. I considered deleting old workouts but decided against it because they serve as a diary of my (almost) sane quest for insane health and not too mention there are some oldies but goodies buried in here.
State Kettlebell Workout Videos
The state series are all free kettlebell videos and each workout is named after the state where we filmed it. By the end of the year, I'll have 48 kettlebell workouts from the contiguous states (plus a bonus one from the District of Columbia)! Workouts with a * indicates those workouts which are geared more toward beginner kettlebell users. Although almost all workouts can easily adjusted to meet different fitness levels.
Alabama 
Arizona
Arkansas
California
Connecticut*
Delaware*
Florida
Georgia*
Illinois
Indiana
Iowa
Kentucky
Louisiana
Massachusetts*
Maine
Maryland*
Michigan
Minnesota
Mississippi
Missouri
Nevada
New Hampshire*
New Jersey*
New Mexico
New York*
North Carolina*
North Dakota
Ohio
Oklahoma
Pennsylvania*
Rhode Island*
South Carolina*
South Dakota
Tennessee
Texas
Vermont
Virginia*
Washington DC
Wisconsin
Just Kettlebell Workouts
In Honor of Heroes – 911 Swings (this is one of my favorite kettlebell workouts)
Very Short Workout
An Evening Workout
Amazonian Workout
Spontaneous Workout
Craft Service Workout
Camp Kettlebell Workout
Move It Monday: Chilling with Kettlebells
Move It Monday
Beach Blogger Workouts
Short Sweet and Sweaty Workout
Weekend Workout
Mixed Kettlebell Workouts (Suspension Trainers, Ropes, Bags, etc.)
Fitter for the Fourth Workout
Back to Workout Land Workout  (kettlbell Suspension Trainer)
Don't Mess With Me Workout (kettlebell, pull up bar, heavy bag)
Bodyweight Only workouts
The Black Workout
Living Room Workout
Camping Workout
20 Minutes Living Room Workout
Backyard Butt Blaster (Uses a pretend Rope)
To the Core
Traditional Gym Equipment Strength Workouts
4X5 Workout
No Time to Workout Workout
Full Body Workout 7
Full Body Workout 6
Full Body Workout 5
Stability Ball Workout
Full Body Workout 4
Full Body Workout 3
Full Body Workout 2
Winter Workout
Full Body Workout 1
Two For One New Year's Special
Strong Sexy Shoulders Workout
Cardio Workouts
20 Minute Interval Treadmill Workout
20 Minute Interval Treadmill Workout
Houdini Sprint Workout
Faux Fighter – 20 Minute Interval Treadmill Workout
Scrawny Beasty Sprint Workout
20 Minute Treadmill Workout
Jump Rope Workout
Killer 20 Minutes Treadmill Interval Workout