Full Body Kettlebell Workout – Mississippi
A kettlebell workout on the beach!
I'm home.
Except I'm not. I'm in Mississippi or I was in Mississippi. Twice. We stopped in Meridian, Mississippi where I got to meet a lovely reader, Missy. Missy from Mississippi. How cute is that! It makes me want to change my name to Calli so I can be Calli from California except it just doesn't have the same ring.
After Mississippi, we went to Louisiana and I filmed a kettlebell workout in front of the New Orleans skyline. Then, en route to Alabama, we passed through Mississippi again and I realized I hadn't filmed a workout. The boys needed a rest stop so we stopped at the beach to play and workout. You know kettlebells are so much fun that a workout feels like play. Almost.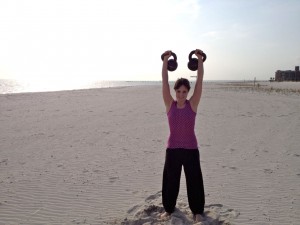 We didn't have a lot of time because we had plans to meet a friend in Fairhope, AL that evening so I did a really simple "as many rounds as possible" style workout. These workouts are good as long as it's AMRAP-WGF, as many rounds as possible with good form. The problem with AMRAP workouts is so often people focus the on the "as many rounds as possible" without any consideration for technique. That can lead to injuries but every once in a while I love me a good AMRAP workout especially when I don't have a lot of time to workout  as was the case during our brief rest stop.
Kettlebell Workout – Mississippi
1. Double Kettlebell Clean and Press – 5
2. Double Kettlebell Squats – 5
3. Double Kettlebell Swings  – 10
4. Alternating Kettlebell Rows – 10 each arm (20 total)
Repeat as many rounds as possible with good form in 11 minutes.
(It could totally be 10 minutes but I had to tie in the number of letters in Mississippi somehow.)
One more thing. I found out someone nominated my blog on Crabby McSlacker's Best Weight Loss Blog Poll. I'm always shocked to find out that people other than my family read my blog. I'm probably the worst blogger out there when it comes to networking and "getting myself out there". I'd actually like to improve in those areas  instead of just waiting for blog fairies to bring me traffic since I put a fair amount of time into creating content. However, it's been almost 4 years and I still haven't found the motivation. Oh well. Anyway, I wanted to say thank you to whoever mentioned me and let you know about the list. There are some really great blogs on there!
I also wanted to say thank you to anyone who has ever linked to or shared my blog. I only check my google analytics when I have to (I'd rather step on the scale than open up analytics any day!) so I usually miss when someone links or shares my blog.
Hope you are having a great week!
Hugs and High Fives,
Jenn
If you enjoyed this post you can follow one of three ways! 1. Subscribe to the RSS Feed 2. "like" Girl Heroes on Facebook, or 3. Sign up to have posts emailed to your inbox. Simple dimple!
Check out our family's adventures being inspired to follow you dreams at New School Nomads as we take a year long RV road trip through the United States!
Pin It