Fit(ter) for the Fourth Update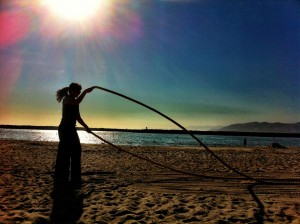 Last week, I said I was doing a four week "Fit(ter) for the Fourth Challenge.  I just looked at the calendar and saw that the 4th of July is four weeks from yesterday.
Silly me…I have an extra week.
Last week went well.  I got in all my workouts except for one and I reached one of my goals- multiple dead hang pull ups.  Woot woot!  Yep, yesterday morning I knocked out two.  I actually should be able to do many more by now because two and half years ago I shocked myself by doing multiple pull ups when I didn't think I could do one. Then for some reason (life) I quite doing them and lost them.  Quick.  It took MONTHS to be able to do just one again.  For me, developing upper body strength has been like connecting to the internet with dial up. S.L.O.W.
My workout plan for this week…
Monday – Full Body Workout w/kettlebells and suspension trainer (Done and my glutes are worked.)
Tuesday – Taekwondo w/some sparring and Walk with a friend (Done)
Wednesday – Full Body Workout
Thursday – Sparring and walk
Friday – Full Body Workout
Saturday – Rest
Sunday – Rest
The schedule may not look much different from last week but I'm always doing different full body workouts and "cardio".  Here is my cardio from last Tuesday when Brent and I headed over to the beach for a short workout while the boys were in their taekwondo class.  We didn't have much time so we did a short 20 minutes circuit but we enjoyed laughing and sweating together as the sun took off for Japan.
Ropes 40/20 (40 seconds of work/20 seconds of rest)
Swings 40/20
Sprints (We sprinted to a nearby sand dune and back.  It took about 30-40 seconds)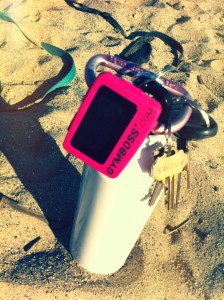 We set the gym boss at the desired intervals (40/20) for 20 rounds (2o minutes).
Short and simple.  That's what I'm all about. (Quite literally.)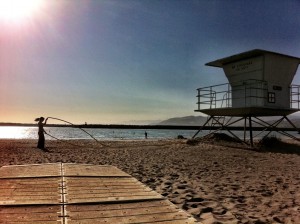 Me working the rope.  (Glad the lifeguard wasn't on duty.)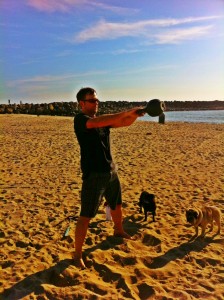 Swings and pugs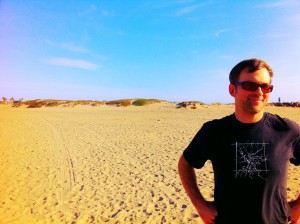 (Have I ever mentioned how much I LOVE this guy?)
The dark bring spots in the distance was where we sprinted to and back.  Brent likes to let me "think" that I can win and then takes off leaving me in the dust sand.  Punk.
I hope your week is going well!!!!
Hugs and High Fives,
Jenn
If you enjoyed this post please Subscribe to the RSS Feed
or
Sign up to have posts emailed to your inbox.
Pin It