Girl Hero Sabrina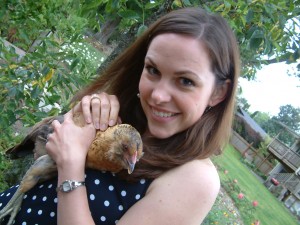 Sabrina is a Registered Dietician and blogs about passion for real food nutrition at Plum.  She is a a Project Director for a research study on bone health in army soldiers.  They are studying whether online coaching about nutrition and exercise makes a difference in weight and bone density after a year of deployment.  She works from an Army Medical Center but is lucky enought to get to work from home half the time since the base is a 90 minute drive from her house.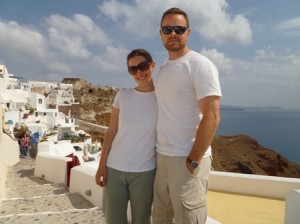 Sabrina has been married to husband , Marc, for 10 years.  They live in Pacific Northwest where, aside from going to college in Southern CA, she has resided most of her life.  They love to travel (they went to Greece and Japan last year), work on their house, garden and just hang out at home together with their chickens!   Sabrina also enjoys cooking, travel, reading, both fiction and books on nutrition (still slogging through Good Calories, Bad Calories!), singing, theater, movies, and Crossfit.
Today, Sabrina talk about her path to becoming a Registered Dietician, how she put fitness back in her life, and her chickens!
Meet Girl Hero Sabrina!
You are registered dietitian with a "passion for real food nutrition".  I LOVE that!!!!  Can you expand on that?

I believe people should eat food, not processed food-like substances.  It scares me some of the stuff people eat and think is healthy.  I get obnoxious junk mail every day trying to convince me to recommend these fake food products to my patients.  People are so afraid of real food— convinced meat, butter, even fruit sometimes is going to kill them and yet they think eating processed vegetable oil fortified with tree bark fiber is good for them!  Don't get me started.  Food grows from the ground—if it requires machinery and a team of factory workers it just isn't food.
What made you want to become a registered dietitian?
Believe it or not, when I was in college thinking about becoming an actress I read "Enter the Zone" by Barry Sears because some famous actress was on the diet.  It was the first time I'd ever been exposed to biochemistry—learning how and why food worked in the body lit me up like few things ever have—I was utterly fascinated. Cutting out all the refined crap I was eating and focusing on protein and produce revolutionized my life.  My favorite acting teacher used to tell us that if there was anything else we thought we could be happy doing besides acting, we should do that instead because show business is rough.  I hated Los Angeles and wanted to come home to Seattle, so I dropped out of the theater major, finished my degree in Philosophy and moved home to study nutrition.  I'm glad I did—I wasn't a very good actress!
What the schooling hard?  Did you come across any obstacles?
There was NOTHING easy about getting here—I have friends that got PhDs in less time than it took me to do my Masters. The main problem is I had gone out of my way to avoid real science classes in college—I took biology for non-majors and astronomy.  To be a dietitian you have to take years of chemistry.  I even considered becoming a Nurse Practitioner for awhile, just because I was so intimidated by all the chemistry, but ultimately nutrition is my passion and my love so I went for it.  I was working full time and taking prerequisites one at a time at night—it took me two and a half years to finish all of them, then another two years in the Master's Program and one more year as an intern.  It was definitely the hardest thing I have ever done.  I don't naturally have a brain that is science oriented—I was always really good at English and Humanities, but not so much math and science so I had to work really, really hard to learn all that chemistry (my husband can attest that every semester I had at least one crazy melt down).  My two years at Bastyr (getting my Masters) were simultaneously some of the best and worst times of my life—it was incredibly hard, and I was working 3 part-time jobs and volunteering in addition to my studies (internships are so competitive you have to do a lot more than just show up for class to get in), but I also made some dear friends and for the first time really felt like I was among people who *got* me and my weird nutrition obsession.    My internship year was so hard—I spent half the year living with my friend's mom during the week because my clinical site was so far from my house.  I was spending all day every day learning about tube feeding and the food pyramid and missing my husband.  Definitely not the best year of my life.
When I took (and passed) my RD exam last summer, the last step in this long process, I literally cried the entire way home—I was just so relieved to finally have jumped through all the hoops!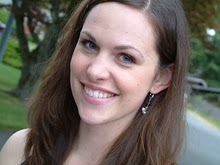 Any advice for aspiring RDs??
If you know as an undergrad you want to do this, or if you at least study chemistry in college it would help—I did it the hardest way possible I think.  There are definitely pros and cons, I wrote a whole blog post on becoming a Paleo dietician—I don't want to do too much ADA bashing here—there are definitely some issues in the organization, but they are necessary for those magic RD letters after your name, so sometimes you have to play the game and memorize stuff you don't believe.  I will say that there are a lot of enlightened RDs out there who believe in whole foods—the Greater Seattle Dietetic Association is full of young passionate RDs who believe in real food and are getting that message out there.  Maybe eventually that enthusiasm will work its way to the top of the organization.
Being an RD, do people ever give you a hard time about your food?  (In other words, do you feel any pressure from others?)
Sometimes people apologize about their food choices to me in social settings, as if I'm the food police.  Even if I thought you were literally killing yourself putting it in your mouth I would not say a word! (Unless you were my husband or my parents—they get a hard time from me sometimes). 😉  But mostly people tend to be very interested in what I'm eating (in my office people gather around to see what I'm eating for lunch! I think because I seem to be the only one who makes something to bring instead of getting something from the cafeteria or eating a Lean Cuisine.)  I'm sure my family thinks I'm totally weird since every couple years I modify my food philosophy—they were really relieved when I stopped being a vegetarian! (So was I!) But they do mostly listen to me which is nice. My parents just started experimenting with paleo which THRILLS me.  Before I was an RD I worked in a couple offices where people would make fun of my big salads and broccoli, but I think it's just because it made them feel guilty about the crap they were eating.
You wrote a goodbye letter to sugar.  Has it been hard to "say goodbye"?
Sugar is not my friend.  We have had a life-long destructive relationship—it's like those faux girlfriends in Mean Girls—pretends to be your friend and then stabs you in the back.  Since I switched to a paleo diet I really haven't had problems staying away from it, and can eat a couple squares of dark chocolate and put the bar away—it's crazy.  When I first went off gluten three years ago I filled the void with tons of processed sugary gluten-free stuff.  It took a long time to let that stuff go, but I feel so much better without it.
You are currently doing Crossfit.  How long have you been doing that? How is that going?  What kind of results are you seeing?
I am a total Crossfit novice—I did it for a couple months two years ago, but I didn't have time during my internship so I gave it up and didn't get back to it until recently.  When I finished the Onramp (beginner) course I felt like my stamina had increased dramatically—every time I go I get a bit better, but I still have a big learning curve—lots of times I'm lifting just the 11 pound bar working on form when people next to me are lifting 100+ pounds.  I've had some knee issues lately that have been holding me back too, which is frustrating.
Did you have a fitness regime prior to Crossfit?  (I'd love to hear you talk about your time after undergrad when you got out of shape and then got fit again!)
When I was an undergrad I was a compulsive exerciser—I did weights and hours of cardio, plus I walked miles every day.  After graduation I was never as consistent, but I've always done some weight lifting (since high school), or hopped on the elliptical for a bit (I hate running!) I was on the swim team in high school and I often go back to swimming as kind of a meditation—it's very relaxing, which is funny because when I was really little I was terrified of the water and wouldn't get in for my swim lessons.
I've had times of great fitness and times of not very fit—it tends to depend on what else is going on in my life.  I went through a hot yoga phase in grad school which I have kind of a love/hate relationship with.  Crossfit is awesome because for once I don't have to try figure out what I'm going to do when I get to the gym and I have a class full of "team mates" to keep me company and a coach that makes sure I'm doing it right.  I was honestly so physically and emotionally burned out after finishing my education that I don't think I was ready for a workout as tough as Crossfit until now.
This may sound silly but I want to know about your chickens!  How long have you been raising them?  Are they hard to raise?  Are they good "layers"?
Our chickens are two years old this month!  They are hilarious—they all have their own funny personalities.  We got them when they were tiny baby chicks and raised them in the house in a big box until they were a few months old (there was a very messy incident where they escaped in the house and that was the end of indoor chickens!) They are pretty low maintenance—we have feeders Marc made that last about two weeks, and we let them out to free range the yard when we are at home, and they generally put themselves to bed when it starts getting dark.  They just need their house cleaned out now and then and eggs collected.  We have six different kinds (7 total chickens) and a few of them are great layers and some of them are terrible layers, which is fine because we still get way more eggs than we can eat anyway (except in the Winter when they don't lay many at all).  We have lucky neighbors since we give away a lot of eggs!
Anything else?
I have a lot of education in the science of nutrition, but I feel like I always have more to learn.  Even though paleo is working really well for me, I am hesitant to say that one "diet" works best for everyone—even amongst the paleo community there is a lot of variation.  As long as you are eating real food, I think there's plenty of room to experiment with what works best for you.
Thank you Sabrina for sharing your inspiring story!  You are truly a Girl Hero!!!
Remember to check out Sabrina's blog Plum!
Hugs and High Fives,
Jenn
Pin It