Camp Kettlebell
We kicked our camping season off this weekend with a trip up the coast with one of our homeschooling groups.  (For those who may be considering homeschooling and are concerned about "socialization".   Don't worry, in most towns, the opportunities to hang out with other kids and really get to know other families are endless.)
Of course, for a nutty person camping would not feel complete without a workout.  Saturday morning, Brent and I hauled our kettlebells down to the beach.
Kettlebell Complex
5 one arm swings
(Clean the bell into the rack)
5 squats (kb is in the rack)
5 military presses
(Switch hands and repeat)
Rest and repeat 5 times each side.  (Total of 50 swings, 50 squats, and 50 presses- 25 each arm)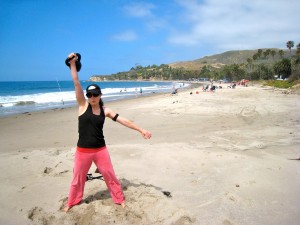 20 snatches (10 each side)
Rest and repeat 5 times. (100 snatches)
Because I was feeling so dang good I decided I wanted to sprint.  It felt SO. GOOD. I love to sprint.  It's exhilarating and makes me feel like a child again.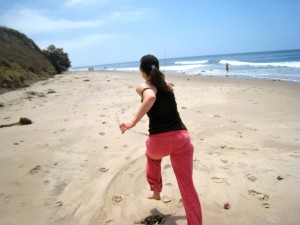 (You have my permission to laugh at that picture.)

2 (approximately) 100 yard sprints
Then I practiced a few other moves (cleans, clean to catch, and windmills) trying to improve my form. When I "practice" I use a lighter bell and my focus is entirely on form and not at all on numbers.
I finished my workout with a relaxing stretch session.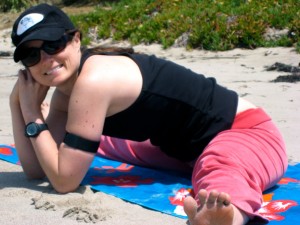 BUT the best part of the weekend wasn't working out.  It was watching these guys fish, boogie board, ride bikes, and play with friends.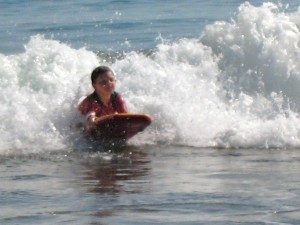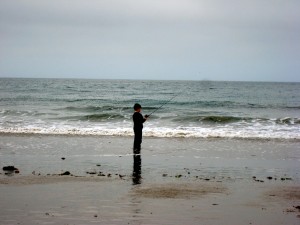 These pelicans were pretty rad too.
God's creation never ceases to captivate me.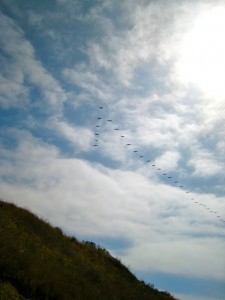 Hugs and High Fives,
Jenn
If you enjoyed this this post please Subscribe to the RSS Feed.
Sign up to have posts emailed to your inbox.
Pin It