Road Trip for Two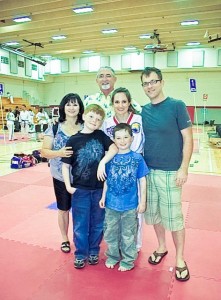 Last weekend's tournament, I had a crew of support and love.
This weekend it's just me….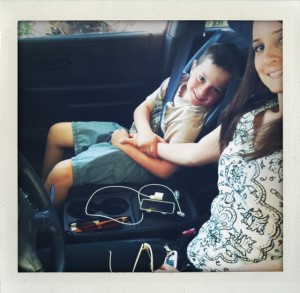 …and this guy!
Yesterday, we hit the road and headed up to Sacramento for the last (thank God) taekwondo tournament of the season.
Here's a cute story.
We had been driving through BFE (Do people still say that?  Probably not.) the central valley on Interstate 5 for about two hours.  I looked down and saw that the gas light had come on.  Uh oh. Trying to remain to calm, I tell Thing 1 we need to pray we don't run out of gas.  His reply, "I'll pray next time my mom pays better attention".
Thanks.
Anyway, last weekend's tournament went well.  I got 2nd in forms and 1st is sparring.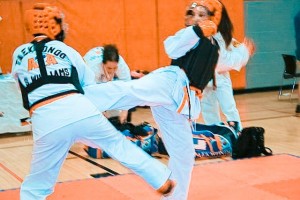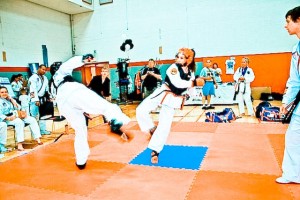 We didn't capture it but the girl in the black kicked me in the head…hard.  Ouch.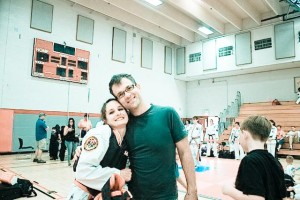 I sure do with this guy was here with me.  It's just not going to be the same.
But….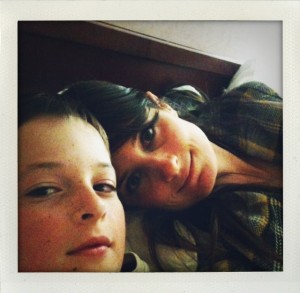 …I have this guy and he's pretty awesome.
Well I gotta go kick some….
HEAD.
You didn't really think I'd say…oh never mind.
I'm just glad this is the LAST tournament of the season.  My life will finally calm down.  For sure this time.
If you haven't already, don't forget to enter my two giveaways the $100 Spa Finder Gift Card and the New Balance Minimus Trail shoes.
Hope you are having a great weekend!
Hugs and High Fives,
Jenn
If you enjoyed this post please Subscribe to the RSS Feed.
or
Sign up to have posts emailed to your inbox.
Pin It