Step It Up Kettlebell Workout – Wisconsin
This winter I took about a four months break from kettlebell workouts.
It's not that kettlebell workouts aren't one of my favorite ways to workout. I got really tired of lugging my kettlebells down to the fitness center at the campground in 10 degree weather. Call me lazy or call me practical but switching to dumbbells and machines (for cable exercises as I'm not crazy about machines for much of anything else) was a nice change. It was good for my body and for my mind.
And I can be excited for kettlebell workouts again!!!!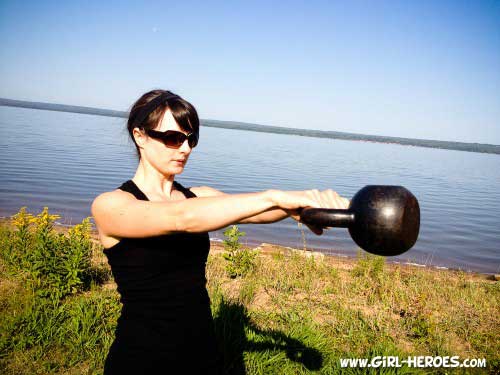 Now that we are back on the move it's time to step up my kettlebell workouts.
This kettlebell workout which was filmed in Wisconsin is a perfect way to "step it up".
Step It Up Kettlebell Workout
1. Press – 5
2. Steps Ups – 10
3. Row – 5
4. Step Ups – 10
5. Modified Pistol – 5
6. Step Ups – 10
7. Incline Push Ups – 5
8. Steps Ups – 10
9. Swings – 10
Repeat circuit 3-5x.
This is a great beginner/intermediate kettlebell workout.  An advanced version could substitute double kettlebells (I tried but the steps ups were BRUTAL with double bells), full pistol squats, and/or regular or decline push ups.
Northern Wisconsin was beautiful. We visited the Apostle Islands National Seashore but, unfortunately, didn't get to out to the islands. Someday we want to go back in the winter because the sea caves along the shore become ice caves. They look magical!!!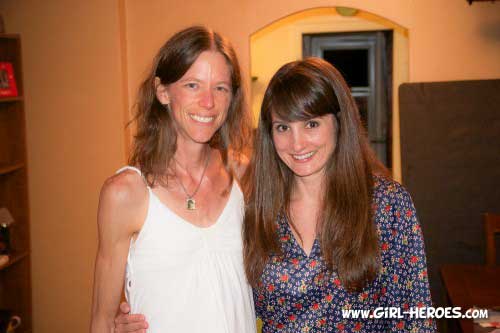 The best part of our time in Wisconsin was meeting longtime blog friend, Katie from Cookies and Crafts. She was just as awesome and funny in real life as she is on her blog!
Alright well that's about it. Thanks for sticking around even though I haven't been posting much. We've been busy here in Colorado Springs and even managed to pull off a surprise party for my 13 year old son last week with guests from three different states.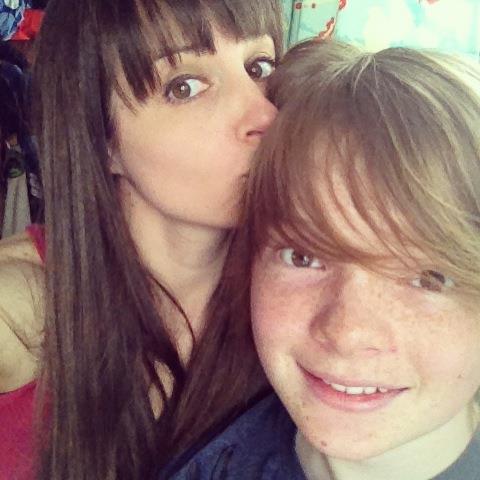 I can't believe I'm the mother of a charming thirteen year old. How did this happen!
Hope you are having a great week and enjoy the kettlebell workout!

Hugs and High Fives,
Jenn
Keep up with my kettlebell workouts, real food recipes, and more in one of three ways! 1. Sign up to have posts emailed to your inbox. 2. Subscribe to the RSS Feed or 3. "like" Girl Heroes on Facebook. Simple dimple!
Journey with our family on the road at Newschool Nomads as we travel fulltime in RV through the United States
Pin It