Strength and Endurance Double Kettlebell Workout – Iowa
I've filmed some kettlebell workouts in some amazing places all the way from California to Maine.
Places like the Florida Keys, near wild horses on Assateague Island and in front of the NYC skyline.
But sometimes it's the simple unexpected places that stand out.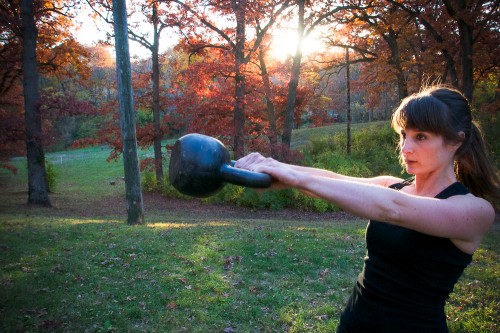 Places like this park we stumbled upon in Des Moines, Iowa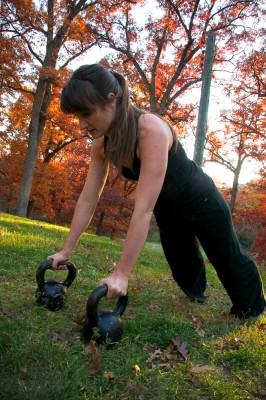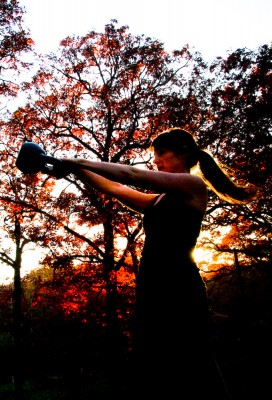 First of all, I had no idea Des Moines was a cool city!
Second of all, look at these leaves!
Beautiful!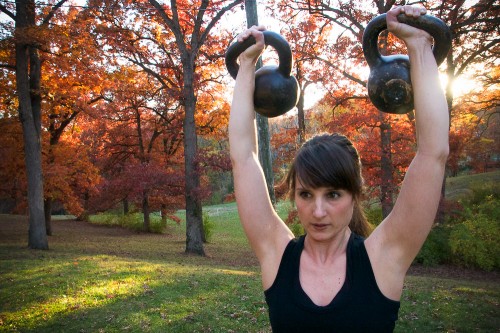 It almost makes me wish for fall.
Almost.
Double Kettlebell Workout – Iowa
Part One
A. Double Kettlebell Clean and Press – 5
B. Double Kettlebell Bent Row – 5
C. Push Ups – 5
Repeat A-C 4x.
Part Two
Tabata Double Kettlebell Swings
Set a timer for 20 seconds of work and 10 seconds of rest. Repeat 8 times for a total of 4 minutes. (Here is a brief intro to Tabata and its benefits.)
I'm really happy with this double kettlebell workout. My form is better than some of my others (If you ever want to improve your form. Film yourself 4o times and you will get better.) and it is a challenge. Plus it's over really quick. Gotta love tabata kettlebell drills especially double kettlebell tabata drills! Evil laugh….
Getting Personal
Last week I said I was not motivated. Well I'm still feeling down. Not as down as a few weeks ago but still not myself and I don't really know what's going on.
Perhaps it was the long winter? Despite all the snowboarding the four of us were in an RV for four and half months while the temperatures dropped below freezing.
Or perhaps it's the uncertainty of our life? We aren't sure where we are going to settle down. Truth be told, I don't like the idea of settling down at all but my oldest who just turned 13 thinks he may want to go to high school. We want to honor that desire so we are thinking about places to settle. I've learned I am a gypsy at heart and this nomadic life feels right almost like finding a soulmate. It will be hard to settle when the time comes.
Or perhaps it's the stress of being a single income family working freelance. Some of Brent's biggest clients aren't giving him the work like they did when we lived in Ventura. It can be stressful as I'm sure many of you understand in this down economy and I realize there are many people in tougher situations. He could look for a normal job but we both agree that being able to live the nomadic life is worth the uncertainty that comes with working freelance.
Or perhaps, it's the sugar. The sugar. In fact, I'm certain that is a big part of it. I've struggled with my sugar addiction for the past year and a half and I don't think it's a coincidence that while my mood has gone down my sugar consumption has gone up. Sigh.
Well that's enough. I'm not going to throw myself a pity party. At least not on my blog. 😉 After all life really is beautiful and if you don't have downs then you can't have ups.
Do you like where you live? Are there any places we should check out as a possible place to settle? What about double kettlebell workouts? Do you love them as much as me?
Hugs and High Fives,
Jenn
Keep up with my kettlebell workouts, real food recipes, and more in one of three ways! 1. Sign up to have posts emailed to your inbox. 2. Subscribe to the RSS Feed or 3. "like" Girl Heroes on Facebook. Simple dimple!
Journey with our family on the road at Newschool Nomads as we travel fulltime in RV through the United States
Pin It