Short and Strong Double Kettlebell Workout -South Dakota
Before we get to the double kettlebell workout let's play a little game!
I spy with my little eye….a guy (or four) and the color is gray.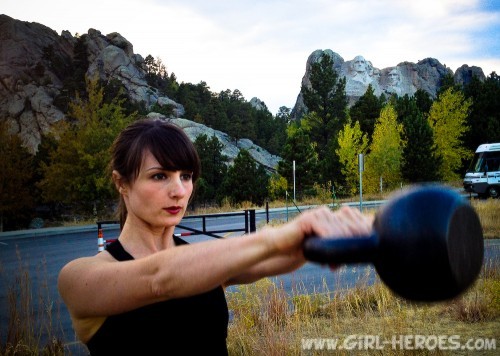 Do you see Mount Rushmore in the background!!!
We made it Mount Rushmore and it was not exactly "amazing" but really fun to see this icon of American history in real life. However, the Black Hills area where Mount Rushmore is located in South Dakota is amazing with endless beauty and so many things to do. As impractical as it was I couldn't resist finding a place to film my kettlebell workout with the faces in the background. It's not often that I can find a suitable and safe place to do a kettlebell workout in front of a major landmarks.
Short and Strong Double Kettlebell Workout
1. Double Push Press – 11
2. Jump Squats – 11
3. Double Rows – 11
4. Double Swings – 11
AMRAC (as many rounds as challenging) in 11 minutes.
(Why 11? South Dakota has 11 letters and 11 is more fun than 10. )
This double kettlebell workout could easily be adapted for one kettlebell by alternating sides and add or take away a rep to work each side equally.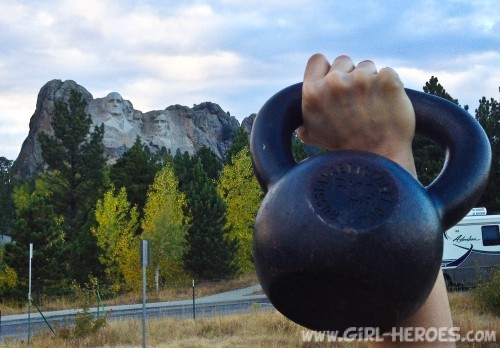 Have you ever been to Mount Rushmore or the Black Hills? Where is the strangest place you've ever did a workout? Do you prefer single or double kettlebell workouts?
Hugs and High Fives,
Jenn
Keep up with my kettlebell workouts, real food recipes, and more in one of three ways! 1. Sign up to have posts emailed to your inbox. 2. Subscribe to the RSS Feed or 3. "like" Girl Heroes on Facebook. Simple dimple!
Journey with our family on the road at Newschool Nomads as we travel fulltime in RV through the United States.
Pin It