Kettlebell Circuit Workout – Florida
Some places are just magical.
Even when you are doing a kettlebell workout.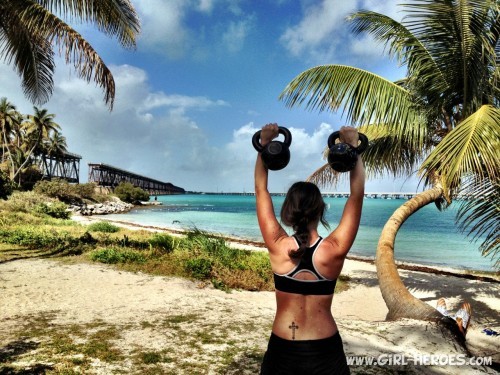 We filmed this one at Bahai Honda State Park in the Florida Keys and so far it has been one my favorite places to workout.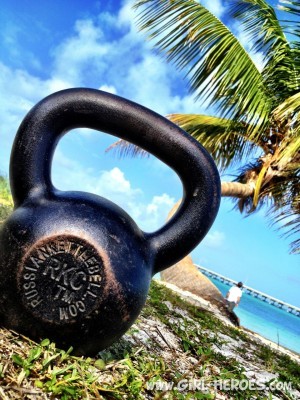 My kettlebell agrees.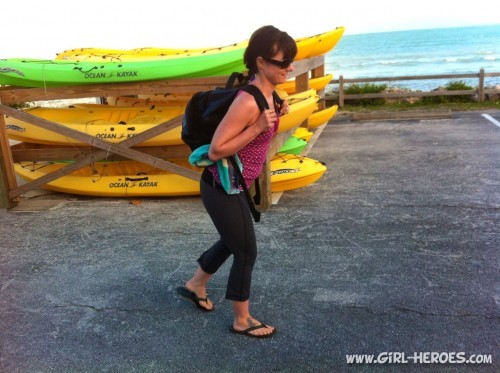 One evening Brent and I had the idea to exercise during sunset. It was a brilliant idea except for we decided to carry the kettlebells from our campsite to the beach. A quarter mile isn't far until you are carrying two 12K (26lb) kettlebells in a backpack. Ouch! By the time we got to the beach I was already exhausted.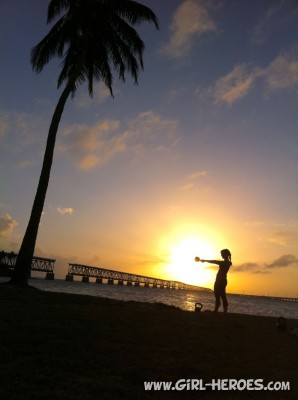 But it was worth it. If only for the photos. 😉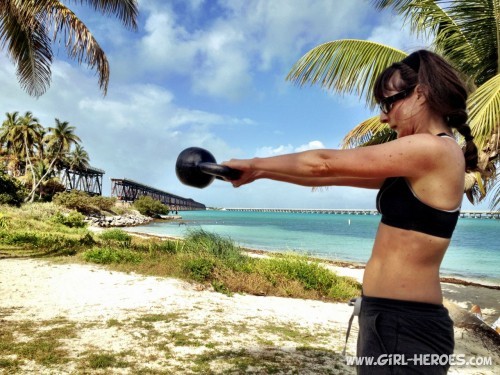 Florida – Kettlebell Pyramid Circuit Workout
-Part A-
Kettlebell Clean and Press – 1, 2, 3, 4, 5, 6, 7
Kettlebell Squat- 1, 2, 3, 4, 5, 6, 7
Kettlebell Row – 1, 2, 3, 4, 5, 6, 7 (1 rep is both arms)
Single Leg Deadlift Right – 1, 2, 3, 4, 5, 6, 7
Single Leg Deadlift Left- 1, 2, 3, 4, 5, 6, 7
Down Ups- 1, 2, 3, 4, 5, 6, 7 (1 rep is both legs)
Part A is an ascending ladder which means that the first round (or set) you do 1 of each exercise. The second round you do 2, the third set 3 and so on. Using double kettlebells makes this workout quite challenging. I'd recommend beginners only go up to 5 or even just 3 (it is that tough…for me anyway…maybe you are more She-Ra) and use a single bell.
-Part B-
Kettlebell Swings – 30/30 for 7 minutes.
Set your timer to 30 seconds of work to 30 seconds of rest for 7 rounds (minutes).
Bahai Honda has been one of our favorite places we've gone so far. I could have stayed for months. We had so much fun visiting Key West, seeing Key deer, playing at the beach, and snorkeling. Well my family had fun snorkeling, I got really seasick. You can see more pictures of our adventure in the Florida Keys on my travel blog. It's worth it to click through just to see how close we got to the sweet little Key deer!
Hugs and High Fives,
Jenn
If you enjoyed this post you can follow one of three ways! 1. Subscribe to the RSS Feed 2. "like" Girl Heroes on Facebook, or 3. Sign up to have posts emailed to your inbox. Simple dimple!
Check out our family's adventures being inspired to follow you dreams at New School Nomads as we take a year long RV road trip through the United States!
Pin It