Kettlebell Circuit – Delaware
We shot this kettlebell circuit in New Castle Battery Park in Delaware on a really hot and humid day. Not my idea of an ideal workout enviroment but since we weren't staying the night in Delaware I didn't have much of a choice if I wanted to complete my goal of doing a kettlebell workout in every state.
Delaware was one of the original 13 colonies so keeping with my dorky-ness theme this kettlebell workout is geared towards beginners.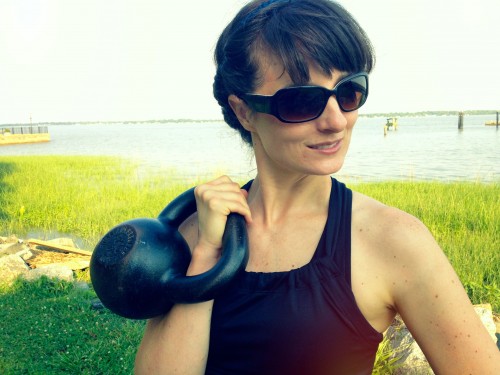 Kettlebell Circuit – Delaware
1. Kettlebell Swings
2. Clean and and Press (Alternating)
3. Goblet Squats
4. Rows (Alternating)
5. Reverse Lunges
6. Curl/Reach/Extension
7. Russian Twists
8. Plank
Set a timer (I use a Gymboss) for 8 minutes of 30 second work/rest intervals or whatever interval suits you best.
Repeat circuit 2-3x.
Oh and put more power in your swings than I did in this kettlebell circuit. Geez! I look like I'm half asleep!
Hugs and High Fives,
Jenn
Keep up with my kettlebell workouts, real food recipes, and more in one of three ways! 1. Sign up to have posts emailed to your inbox. 2. Subscribe to the RSS Feed or 3. "like" Girl Heroes on Facebook. Simple dimple!
Journey with our family on the road at Newschool Nomads as we travel fulltime in RV through the United States!
Pin It