Kettlebell Cardio Circuit – Missouri
I haven't picked up my kettlebells for weeks. Truth be told, I'm still struggling with motivation in general but watching this kettlebell cardio circuit that we shot in St. Louis Missoris just may change that.
Maybe.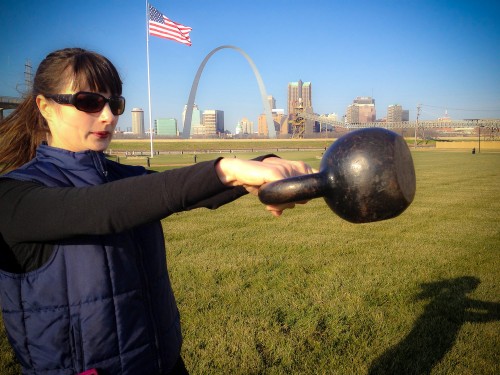 We loved St. Louis and I loved that we unexpectedly found this park the morning we decided to film the kettlebell workout. I had been asking around if there was a good place to get pictures of the arch (it's hard to get the entire thing in the frame because it's so tall) and everybody kept saying not really. I considered doing the workout on the busy square  downtown but it was busy. It may not seem like it but I'm really shy and if possible I like to shoot the kettlebell workouts in more low traffic areas if possible. So I looked at the map again and saw Malcolm W. Martin Memorial Park right across the river from the arch. It was perfect with a great view of the St. Louis skyline and it was quiet! Why didn't anyone know about this place!
The is a kettlebell cardio circuit. It's perfect for non-strength days or on it's own whenever you need a quick but effective workout. Love kettlebells!!!!
Kettlbell Cardio Circuit – Missouri
1. Down Ups – 8
2. Kettlebell Reach – 8
3. Jump Squats – 8
4. Two Handed Row – 8
5. Swings – 8
As many rounds as possible in 8 minutes.
I was trying the two handed row with an underhand grip and I'm not crazy about it as it can put a lot of pressure on the wrist through hyperextension. So if you do that just be aware of your wrist position and make sure they aren't bending backwards too much. A lighter kettlebell will help this.
___
We finally left Breckenridge a few days ago. It was a bittersweet goodbye. We had an amazing time snowboarding (you can see all of our best pictures here) and being part of a community for four months. It's going to take a few days to adjust to moving again and getting back on track with my workouts. I'll write more about it next week because my grandparents are visiting us right no. They came out for my oldest son's 13th birthday and we want to spend as much time with them as possible.
Alright well I hope you are having a great week! Do you ever use kettlebells for cardio circuits or do you prefer using them solely for strength?
Hugs and High Fives,
Jenn
Keep up with my kettlebell workouts, real food recipes, and more in one of three ways! 1. Sign up to have posts emailed to your inbox. 2. Subscribe to the RSS Feed or 3. "like" Girl Heroes on Facebook. Simple dimple!
Journey with our family on the road at Newschool Nomads as we travel fulltime in RV through the United States
Pin It