Short, Sweet, and Sweaty: Turkish Get-Ups & Tabata Squats
If you've read my blog for any length of time you may have noticed I don't do many long workouts.  Sure, I enjoy going long hikes, walks, or even an occasional jog but as far as scheduled workouts I prefer them short and intense.  It's better for my body, for my sanity and I'm not a hamster. (re: long treadmill sessions) Call me lazy but I don't want to make the time to bust out an hour or more in the gym every day and if I can do the workout in my living room I'm even happier.
Living Room Workout
(short, sweet, and sweaty)
8 minutes of Turkish Get-Ups
4 minutes of Tabata Squats
Stretch
Loved it and will definitely be doing it again.  The video shows the get-up with a kettlebell but a dumbbell can be used in it's place.  The weight distribution is different but it still works just fine.  Don't let any kettlebell snob tell you differently. 😉
Over the last few months I've come to love get-ups.  It's a very "functional" movement that really works the "core".  (Don't you just love fitness buzzwords. I don't.  I think they are annoying but I still use them.)  Get-ups are great for overall strength (fantastic for the shoulders) and flexibility. You can google turkish get-ups and quickly find a wealth of information as to why they are kick azz but there is another benefit I haven't read about: relaxation. When I am holding an iron ball (or dumbbell) above my face I better have serious mental focus.  I find this forced extended period of mental focus almost meditative.  A long set of get-ups is on par with taking a long bath, albeit, a sweat bath but relaxing nonetheless.  When I'm done I feel strong and focused.
If you've never tried Tabata and you're like me preferring short and sweet, then you might want to give the Tabata protocol a try.  It's another one of my favorites. Tabata protocol?  Wth is that, you ask?  You can read about Tabata here.
I'm trying to make my blog a little more personal so I thought I'd share my attempt to shorten my longish bangs yesterday.  I was hoping to have Bettie Page bangs but ended up looking more like a drunk Cleopatra.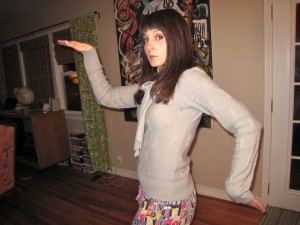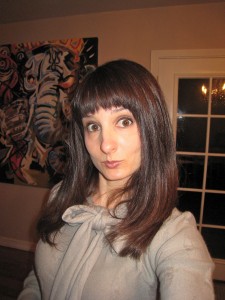 You can't tell as much in the pictures but they are pretty choppy, short, and UNEVEN.  Ugh.  When will I learn to stop playing with scissors!
There is a yummy giveaway over at a new (to me) blog I just found called Jocelyn Eats Fresh!  Who happens to be another low sugar gal!  Yay!!!!  Check it out!
Have a great Monday.
xoxo
jenn
If you enjoyed this this post please Subscribe to the RSS Feed.
Sign up for up to have posts emailed to your inbox.
Pin It