Mozzarella Eggplant
In keeping with our decision to eat vegetarian a night or two a week, I've been creating new or revamping old recipes.  Last night, we converted my Mozzarella Chicken to Mozzarella Eggplant.   I can't believe I'm saying this but I think I actually like the eggplant better.  It was sooooo good.  I nearly cried for joy when I found out my husband had a business lunch today and I didn't have to share the leftovers.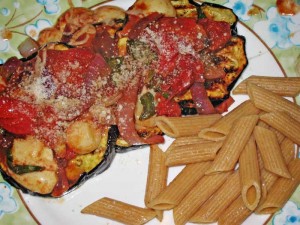 Mozzarella Eggplant
1 eggplant
1 tbs olive oil
1/2 red onion – sliced
2 tbs balsalmic vinegar
2 tbs water
4 tomatoes – chopped into big chunks
1/2 cup fresh basil leaves – chopped
4 oz part skim mozzarella cheese – Not shredded, the kind you buy whole. Cut into little chunks. A piece about the size of you palm. (Cheese sticks work too.;-))
Brush the eggplant with olive oil and sprinkle with garlic salt.  Grill on each side for about  3-5 minutes.  (Grilling the eggplant was key.)
Heat the rest of the oil in a saute pan and cook the onions until they start to soften.  Then add the water, vinegar, tomatoes, and basil.  Cook over med/high for a few more minutes until the liquid starts to thicken.  If you want a more sauce add a little more vinegar and water in equal parts. Keep stirring it so it doesn't burn.  Turn down the heat just before servings and throw in the mozzarella.  If you put the mozzarella in too soon it will start to melt all together.  It's better when the cheese stays chunky.  Spoon the sauce over the eggplant.
The fact that there was no meat on the table did not stop Meow Cow from practicing his usual tactics. Every evening, Meow Cow saunters in and sits down on the bench at the table right between my Brent and I.  Meow Cow patiently sits looking up at me pretending he actually loves me.  He knows if he stares sweetly at me long enough I'll let him eat off the table. Yes, I am that rogue-ish. Occasionally, Brent scolds me but most of the time he pretends he doesn't see because secretly he wants to feed Meow Cow from the table too.  He would never admit this because it greatly goes against the civilized code of conduct but it's true.  When Meow Cow doesn't get what he wants he gets extra nice and climbs onto one our laps.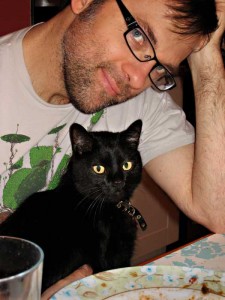 If he fails to score he gives us kisses.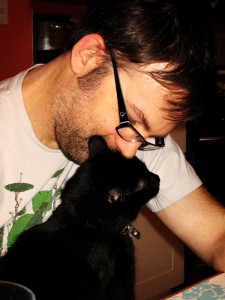 And then when he gets what he wants.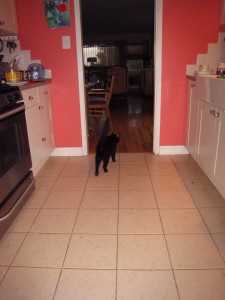 We love Meow Cow anyway.
xoxo
jenn
If you enjoyed this this post please Subscribe to the RSS Feed.
Sign up for up to have posts emailed to your inbox.
Pin It