Roasted Eggplant Spread
I like versatility.  Reversible jackets.  Kettlebells as doorstops or for workouts.  Minivans for  children or 4×8 sheets of plywood.  It's one of the reasons I love my Perfect Pesto.  I can use it to spread on bread, make the most killer egg sandwiches ever, toss with pasta, in place of pizza sauce, toss with veggies, and or by the spoonful.
The other day, I came up with another versatile spread.  We've been getting quite a few Japanese eggplants in our CSA as of late.  They are long and skinny so they don't work as well for my Eggplant Mozzarella recipe.  Like the pesto, it's so simple to make and I think I love simplicity just as much as versatility.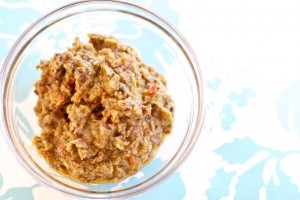 Roasted Eggplant Spread
4 Japense Eggplant (or about 3 cups of  regular eggplant)
2 Garlic Cloves
1 tbs Capers
1 tbs of Sun Dried Tomatoes
1/4 Cup of Olive Oil (A tad less if you are using sun dried tomatoes in oil.)
Sea Salt to Taste
Slice the eggplant in half and brush (or spray) with a bit of olive oil and sprikle with sea salt.  Bake at 350° for 20 – 3o minutes until eggplant is soft and starts to brown slighly on the edges.
Put the eggplant, garlic, capers, sun dried tomatoes, and olive oil into your food processor (or blender) and blend until smooth.  Add more oil if necessary.  I find 1/4 cup to be plenty.
This spread is good on french bread, as a veggie dip, or in a wrap.
And since I'm decided to take Mark Sisson's The Primal Blueprint 30 Challenge, on chicken!
I've been reading Mark's Daily Apple off and on for about two years.  Although, I've decided he is total GUY HERO, I don't think I'll ever go 100% primal (I'm keeping an open mind) for life.  I'm simply feeling like I'm up for a new challenge.  They keep things interesting. So the next 30 days I'm want to do a little experiment and pretend I'm a cavewoman with luxuries.  Mrs. Flintstone with a stove, a dishwasher, a refrigerator, and a Trader Joe's. Regarding workouts, from what I understand his workout philosophy is similar to my own.  He recommends sprinting once a week.  I've let my sprinting slack the last few months so I'm looking forward to getting back to that so I'll go to the beach for some sprint workouts.  I plan to keep up with my kettlebell training and my walking as well.  The biggest change is going to be not eating grains.  It's going to a fun 30 days and I'm hoping this will get my creative juices flowing in the kitchen.  Last year, I attempted a grain free month and felt pretty fantastic.  I'll let you know how it goes.
Hugs and High Fives,
Jenn
If you enjoyed this post please Subscribe to the RSS Feed.
Sign up to have posts emailed to your inbox
Pin It