Mozzarella Chicken
As you may have realized by now I'm a huge fan of Mediterranean flavors.  Yesterday I cooked up a huge batch of one of my favorite chicken recipes, Simple Mediterranean Chicken.  I can't wait to eat the leftovers for lunch today.  Here is another one of my favorites that (I guess) is Mediterranean too.  Whatever it is, it's super easy and I like easy almost as much as I like flavor.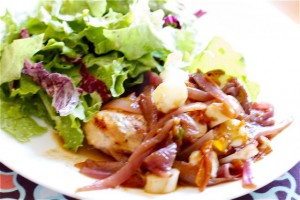 This picture does not do this dish justice.  It really is good.  One of my favorites.
Mozzarella Chicken
4 boneless skinless chicken breasts
sea salt
pepper
1 tbs olive oil
1/2 red onion – sliced
2 tbs balsalmic vinegar
2 tbs water
4 tomatoes – chopped into big chunks
1/2 cup fresh basil leaves – chopped
4 oz part skim mozzarella cheese – Not shredded, the kind you buy whole. Cut into little chunks. A piece about the size of you palm. (Sliced cheese sticks would work too.)
Season the chicken with salt and pepper and either grill or cook it on the stove in a pan with a little oil until the middle is no longer pink.  I like it grilled, weather and time permitting. Keep the chicken warm.  Heat the oil in a saute pan and cook the onions until they start to soften.  Then add the water, vinegar, tomatoes, and basil.  Cook over med/high for a few more minutes until the liquid starts to thicken.  If you want a more sauce add a little more vinegar and water in equal parts. Keep stirring it so it doesn't burn.  Turn down the heat just before servings and throw in the mozzarella.  If you put the mozzarella in too soon it will start to melt all together.  It's better when the cheese stays chunky.
Makes 4 servings at approximately 286 calories, 9 grams carbs, 36 grams protein, and 10 grams fat
xoxo
j
Pin It