Brent's Mediterranean Chicken Salad
Besides a ton of veggies, fruit, oatmeal, Ezekiel bread, eggs, and lean protein there are a few other staples I always have on hand: capers, sun dried tomatoes, kalmata olives, and artichokes.  I use them in omelettes, salads, dips, and sautes.  This weekend my wonderful husband made me a quick yummy chicken salad using some of my favorite staples.  Thanks love.  Your salad gets two thumbs up!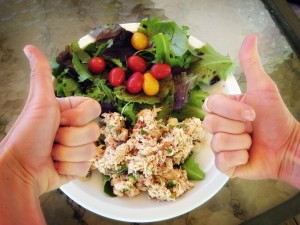 Brent's Mediterranean Chicken Salad
1 12 oz can of white chicken
1 green onion – thinly sliced
2 tbs of Greek or plain yogurt
1 tbs capers
1 tbs sundried tomatoes in oil – chopped
1 1/2 tsp oregano
lemon or plain pepper – to taste
sea salt – to taste 
Mix it all up in a bowl.  I ate it on mixed greens drizzled with balsamic vinegar.  It also makes a good sandwich.  If you like it, double the recipe and keep in it the fridge for a quick easy meal.
Makes about 3 servings at approximately 150 calories, 3 grams of carbs, 21 grams of protein, 4 grams of fat per serving.
xoxo
j
Pin It