Girl Hero Tara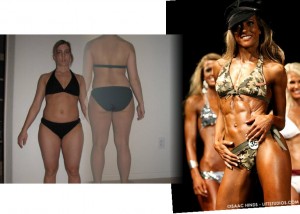 WWTD?
What would Tara do?
I've asked myself that more than once in moments of temptation or laziness.  Tara has been immensely motivating for me.  So motivating that I had a picture of her taped inside my kitchen cabinet when I was training for my first figure competition! I've used all the excuses in the book from "I don't have time to cook healthy" to not having "the right equipment" to "I have a pear shaped body it's impossible" to change it.  But Tara challenged me to question all my excuses.  Frankly, she makes most excuses look…well like excuses because she is a commercial pilot (she flies a 737!) whose busy schedule takes her all around the world.  Despite her not always "convenient" schedule she still chooses to eat healthy and get her workouts in.  Not only has Tara transformed her body but she is caring, funny, supportive, and honest.  I was part of an online group of figure competitiors with her a year and a half ago and she never stopped encouraging other group members.  More than once she took the time to answer my questions and offer support!  I'm really excited to share part of Tara's life with you all because her life changed my life by giving me hope that I too could change.
What caused you to make your lifestyle change?  Was there a moment you just knew you had to change your habits?  Was is a major change?
Rather than a defining moment, or realization that I had 'become out of shape', I think it was more that I picked up the BFL book and got all excited over the before/afters.  I knew when I saw those, that not one person on there could possibly have something in them that I didn't.  In fact, I thought…."I have a killer work ethic!  If I just really hunker down, I can do this for sure–these people aren't magically gifted– I can do this, too!"
It was AFTER that, when I took my 'before' picture, where I truly discovered that I was WAY out of shape.  I always thought I was 'pretty fit' with just a small layer of fat.  Wow, I was way past out of shape.  I never pictured myself as out of shape as I was in my photo; it was an eye opener!
Changing my habits….it's still a process! I am still working on them!  Initially, I really thought 6 meals a day was such a new, 'hard core' thing to do.  I thought using low fat mayo was the biggest step toward being fit.  I had no idea how to do any weights other than that leg sled press.  I used to just get on that thing and push 12 reps, maybe one set,, with as many plates as would look impressive.  I really had no clue about mind-muscle connection, balancing the upper body (or even caring about it), or working out in a consistent manner.  I was all over the place, dabbling in fitness, calling myself a fit minded person, yet never fully committed and never had a 'plan' for workouts or meals.  Nutrition was entirely new.  I  used to think Slimfast was healthy.  A small amount of white rice for a meal–like that was the secret to being healthy.  I had a veggie drawer full of mini tootsie rolls in the fridge– 'smart snacking' because hey…they're 'fat free' and can 'curb a chocolate craving'!  You know…most of us have been there.
What was your diet like before?  Your exercise program before?
It's hard to say WHAT my diet was before…I never had a 'diet'.  I was big on cereal in the morning- dinner, maybe, too….I liked Raisin Bran, but I also liked sugary cereals.  I never ate eggs–hated them.  I liked bacon, though.   Lunch and dinner might be ziti and sauce with butter, spaghetti, soup, plenty of candy on a daily basis, diet soda several times a day, Doritos here and there, and tons of Balance Bars or Slimfast shakes(I thought these were healthy…and I thought the MORE of them I ate, the FASTER I would lose weight!!! Really!!! ).  I didn't cook steaks or chicken or fish.  I might buy deli chicken.  I might have a frozen meal…in fact, I remember buying a lot of these for less than a dollar.  I was not big on fast food at all.  I skipped meals all over the place.  One meal a day to who knows how many snacks a day.  I just had zero thought pattern about it, because if I did a workout here and there, I figured it was the main thing that made you 'in shape' or not.
Exercise ranged from weeks of nothing to a stray day doing some convoluted leg thing.  I remember looking at fit gals in the gym, and then thinking I was 'so much stronger', I'd load up the leg press sled and think, "My genetics might not make me look like her, but I am way stronger."  These days, my weights are down because my form is up… I see girls like me come in and load up plates like I used to, and walk away after their 1 set.
I did stair master in college and had great calves.  I would judge a cardio machine based on how I might think it would shape my legs– how it might make them lean and shapely.  I didn't know to think in terms of 'overall body fat'.  I was a 'spot reducer cardio equipment chooser'.  The concept of weights to lean up just didn't occur to me, and I didn't even think to research.
Once I started flying for the airlines, I didn't work out on layovers at all.  It seemed like there was no time– It was fly and sleep and eat, get up real early, do it again.  I flew a lot at my smaller flying jobs to build time to get to a major airline; I focused on my career and barely at all on my health
What is it like being a pilot?  What's a typical schedule like?
I do love to fly!  I love the challenge; I love to see the terrain…the way it goes from mountians to oceans and seeing the way people find ways to build small villages in seemingly remote places.  I love to see mountains and islands in the day, and red lava marking volcanic activity at night, and I love weather– I love the mechanics of a good storm, and it fascinates me.  I love when the wind is crazy and the runway is slick and short, and I get the landing.  I know it's the job I was meant to have!
Pilots are always living out of a suitcase…even at home.  Pilots are always keeping current on procedures, training, checkrides, etc.  We are busy when we have our trips, and at home, we are trying to play catch up, getting packed for the next trip, and trying to find some down time…some quiet.  Most pilots wind up eating at airports, grabbing food between flights in the day.  Long layovers are becoming a thing of the past, so exploring a city is not common anymore.  Many times, we arrive late at night and leave the hotel the following morning.  We can do one to six flights a day, or more. A pilot can be on duty for 16 hours; this does not include going to or from a hotel, or security screening.  Piloting is truly a consuming lifestyle; it is not a part time gig.
There is not a typical schedule.  I tend to fly 4-day trips, which means I am bouncing around from city to city several times a day for four days, without coming home.  In between, the days off vary, but 3 days off in between trips is a decent average.
I have been home less than a week in an entire month, and I have been home for half a month at a time.  I have times where I fly 3 days, come home for one, go out for two, home for two, and out again for four.  This is what I am doing this week.  This type of skeddy is very hectic.  Time zones are always changing, and we swap flying days to flying allnighters (redeyes).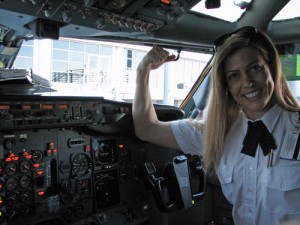 Can you share the some of the challenges you face trying to maintain a healthy diet and workout as you fly?
The challenges lie mainly with refrigeration and heating, and international rules.  I have to be able to eat whatever I bring, and I have to eat it cold (I never count on finding a microwave– if I find one, great! A treat!  Most trips I do not have this.  I keep food cold by filling a sturdy ziplock with ice.  I leave Denver with the food all frozen in my cooler.  I get to Texas and fly my day.  By the end of the day, I need ice, so I either get leftover galley ice from the plane, or wait till the hotel to get ice.  I must carry my food with me; there is no place to 'leave' food to get it later.  I am in a different city/airport all the time.
International rules restrict meats, plants, nuts, fruits.  I fly international every month, so on these trips, I rely on canned tuna, canned chicken, powdered eggwhites, shakes, and a green supplement.  It gets old eating this stuff for 4 days.

The little newstands with every candy on the planet can be tempting.  My crewmembers often have some tempting foods, too!
At times, hotels do not have gyms, or the equipment is inop, or the gyms have certain hours.  Since I want to be competitive, I can't exactly go, "oh well! no workout today!"  So I have definitely lunged hallways at midnight in the hotel, sprinted parking lots, and gone up stairwells and down stairwells for cardio.  I can bring a jumprope and go in the parking lot and do a series of pushups, rope jumping, sprints, plyo, etc for a killer HIIT workout.  People do stare.  Sometimes I'm sure that I'm 'the freak', but I know I'll never see these people again.  The more I do this stuff, the more I don't even consider what I look like.  It becomes just a normal thing for me, and 'feeling stupid' isn't in the equation.
What have been your biggest roadblocks and more importantly how do you get pass them?
Roadblocks have definitely come from me, mostly.  From where I look at a situation (99% of the time it's to do with work), and say, "There's no freakin' way!!"  Once you get that mindset, it's VERY hard to poke around the possibilities and figure out how to make it work. I get all mad and frustrated, and that gets me nowhere.  I have slowly recognized this pattern.  The more things that I have MADE work, the more things that I can MAKE work.  When I make something work, I feel like a rockstar…unstoppable!
Right now, the roadblocks come from full flying days where the layover is either scheduled to be short, or delays have made it very short.  I feel helpless because I can't control time.  I can't give up sleep– flying and being safe for my passengers is a bottomline–it's the priority.  I have learned that so far, I haven't turned into a blimp from missing a workout.  I found the things that I can control, and that is prep time and diet.  I allow a longer time to prep for a show, and I absolutely cannot be sabotaging my diet.  I also do request my monthy schedule to have layovers that allow me longer sleep and some time to workout.  Being proactive on the prep time, honest about where my diet needs to be, and in better control of my schedule is how I maneuver the obstacles best.
On your personal health journey have you had any super low moments?  Moments that just made you want to throw in the towel.  Did you learn something from that experience?
In October of '08, I developed severe knee pain that required an MRI.  Nothing could be found, however, and I continued to have this knee pain up until 2010.  It drastically affected my training.  I was lucky to have enough leg muscle to get by, but the conditioning (cardio) aspect became very tough.  I had NO leeway with diet.  I had to do slower, less effective cardio.  I became very frustrated at not being able to train like I wanted.  For my health, I felt that my competitive career would be cut short.  I had times of 'why', and times I knew it would be better to just stop training.  I think I probably should have stopped, but I did not want to quit.  I pushed
One day, I came across the website Truth About Splenda, and I saw that joint issues were mentioned.  I immediately took Splenda out of my diet, and learned so much about artificial sweetners, and how damaging some of this 'substitute' food that I was eating is.  Within a month, I regained nearly all knee function with no pain.  It is not 100%, but I am not restricted on workouts!! I am ecstatic!!! I also had the opportunity to better my health.  I learned that food is a BIG DEAL to every function, down to the cellular level, of the body.  It is this that has sparked my interest in nutrition for athletes, and I am working on a certification course to learn more from ISSA.
What do you find to be the easiest aspect of your lifestyle?  What do you think makes it "easy" for you?
The ability to do whatever I want, whenever I want.  This comes at a price of course, but I am a single gal with no kiddos or pets.  This is what I choose right now, and I am enjoying every minute of it! I can workout at 2am if I need to, fly an extra trip if I want to, and need to consult with no one.  I mean, I work around my job, which can be inflexible at times, but outside of that, I DO get the flexibility.  I really am grateful for this, because so many gals have a household to run, too, and others around them need to be considered.
Have you ever done anything "silly" to lose weight?
I did try to have white rice for every meal, once.  Not sure how long that lasted, but knowing what I know now….that was the dumbest thing I could have pulled!  I also did Slimfast in college, and thought…"If I take extra scoops, I'll lose weight even faster!" No, I am NOT kidding!
Have you ever dealt with depression?  Do notice changes in your diet coincide with your moods?
I have not dealt with depression.  I have ups and downs like regular people, but I am generally a positive person.  When I really am going through a true tough time, I actually find that putting on the ipod and getting on a tready 'just to run' is really calming.  I don't try to set a record or go for a time, or 'get a workout in'.  It is simply time to listen to the music, run at whatever speed feels effortless, and just go.  If I can go outside, to a trail or scenic area where there are no people around, this is where I feel best.  I don't like to sit and feel down and out.  I tend to fight that.  I feel weak if I sit and allow myself to be down and out.
What I notice about diet is not necessarily that a certain food makes me more positive (ok, besides the coffee 'take on the world' thing that happens to me), but the way that I feel after eating and nourishing my body with clean foods is different because I feel like I'm truly HEALTHY–it's more knowledge based than an actual physical reaction type of feeling from a food.  I feel cleaner and lighter…. like I have nourished my body.  This knowledge about that nourishment is what puts me in a good mood.
What are you most proud of?
Some people say, "I relate to you", or "You motivate me," and that definitely makes me proud.  I am proud of my work ethic, and I am proud of being and of having always been a natural competitor.  I want other gals to feel that what I have attained is something that they can do, too.  I never want to hear, "Oh, but she has this going on, and I don't…."  I want people to succeed, and I am proud if I can somehow help that.
What do you think about people who say you've just got "good genes"?
1. Look at my before picture.
2. Come spend a day with me.
You're really strong and beautiful woman, I'm curious, how do the guys at the gym react when you go into the gym and show them you don't messing around with pink dumbbells?
Aw, that is a really nice thing to hear!  Thank you!  Wait–there are guys at the gym???  Hehe …. I honestly feel that I might be seen as a bit standoffish in the gym.  I keep to myself…I don't look around, and I don't really interact.  If someone's on a machine I need, I use another one.  I sound like a freak! Haha! But I am just really all about making my session count!  I really, really want to be among the BEST, and I am very, very focused in the gym.  I sometimes wish I balanced my gym personality better, but I haven't made the effort.  I'm afraid it will take away from the intensity, I think.  The gym is a place of business, really.  I have had two people comment at all to me in the gym, and both were very kind comments– not, "you look hot'" or anything, but more like, "You really hit it hard on your workouts!"  and "Are you training for something, because I see you in here, and you seem to work really hard."  These are the best comments–they made me feel good
How have your friends reacted to your transformation?
I remember taking a picture in some cutoff jean shorts after my 12 BFL transformation.  I cut the head off, and entered a little online contest.  I called up my best friend, who lived in another state and had not yet seen my transformation in photos, but knew I had done the 12 week program.  I told him to call up the web page and said, "Look at all of all these girls–they kicked butt, huh?"  I didn't tell him that one was mine.  He said, "Hate to say it, but this girl looks better than you.  Wow.  She did a good job."  And I laughed, because that photo was MINE.  He was stunned- and a little embarrassed!! haha!
He came to my first competition with his girlfriend, and when I came out on stage, they did not at first know it was me.  Again, very very suprised.  I know it motivated them to start their own programs.  Most people really said, "you were never fat".  Then I show the before pics in the bathing suit and they say, "Oh, but you couldn't tell you looked like that, really."  One friend asked me if I had liposuction– very loudly, in the airport, he asked this.  I was there in uniform, and dozens of people turned around to stare.
How does your lifestyle affect your social life?
Oh, this is baaaaad….I don't have much of a social life!  Between flying and working out, I have decided that right now, I want to push the competing thing, and see how far I can go.  I don't want to try to fit a relationship in, because I can't give the kind of time that I will need and want to give to someone.  I have friends, but fortunately– I live with both of my best friends, so we don't have to arrange special times to see each other.
When I am ready to compromise, I can open myself up to a relationship, but I choose this right now.
Any advice for staying on track when going out?
You are who you are.  If you are a competitor, don't try to be a 'party girl', or a 'girl trying to fit in' on what's on the menu.  You are a competitor, so you either bring 'your foods' (yes, you are a freak

  ), or you have a say in where you go, and your order food accordingly.  Going to a club?  Go ahead!!! Go!!! But you are who you are.  YOU drink water, tea, whatever matches with who you are.  Don't try to play 'cool' and 'just fit in'.  You have to go against the grain a little, and that takes a little bit of not caring what others think.  Come on, you're not going to be ousted from the table if you eat your own stuff.  Make less of a big deal of it, and do it like you've done it forever.  It really is just the way it is right now– You have GOT to do what you have to do.  I brought chicken and a sweet potato to Applebee's when I met up with an old friend from high school.  I told the waiter that I would order coffee and that I have my own food.  The waiter said, "Do you want a plate?"  That was how hard it was.
By the way, you can expect comments and maybe some grief from family and friends.  It really is normal, but it really is frustrating, too.  I just get upbeat, positive, and tell them how I feel so good, and I want to be place first, and how excited I am over my healthy foods.  I have heard it all, from 'freak' to 'eating disorder', to 'good for you'.  Go with it.  Don't let anyone slow you down.
How do you look at food differently than before?
Yes!! It's more 'what can this food do to nourish my body, my cells, make me fight disease…'   I am angry at advertisers and at manufacturers of junk food– I feel like if I buy their stuff, I promote their worsening of our health!  I'm PAYING them to slowly poison me!   I feel like they could care less about what disease it gives someone, and more about whether they can get a bigger yacht with the profits.
My staple foods are oatmeal, organic chicken, corn tortillas, berries, and of course–any kind of nut butters and nuts.
Do you have an easy meal you'd like to share?  Or maybe some food and travel advice?
Every meal I do is easy– it's as hassle free as can be, so by nature, also pretty boring.  A great little snack for a carb in place of corn chips is to spray corn tortillas with Pam, sprinkle with seasalt, and bake for 5-10 min at 400 on a piece of foil…(poke holes in the foil for best and most even heating, or put directly on the rack)  (you can also cut them into triangles before baking).  My roomies gave me this idea, and I love it!
For my travel food, I invested in a $99 FoodSaver (Sam's Club or Costco are cheapest).  I cook my food for work and seal it up in these baggies.  Like I mentioned, food is always cold, and it gets to be that you really just want warm food after so many cold meals!  So sometimes I get in the hotel, put the sealed bag of whatever (let's say it is salmon) in the coffeepot.  I fill the coffeemaker with water and turn on the coffeepot.  That hot water will drip onto the salmon baggie in the pot.  It sits in there a bit and gets warm.   I pull out the baggie and dump the fish out…and it's nice and warm to eat!  I especially do this with fish, because cold fish is not fun for me!
What is your favorite fun food?
If you want to know what I would love to eat that I won't…it's a Cadbury egg!  Once I eat that, it sends my insulin soaring, and it's hard to reel the cravings back in.
How do you deal with cravings????
Oy! STAY AWAY FROM SUGAR!  STAY AWAY FROM SUCRALOSE/SPLENDA!  That's the secret right there.  No kidding.  I also cannot chew gum or have any diet soda.  Artificial sweetners REALLY do give me cravings, and it was a long time before I cared enough to try and figure out if I had a craving pattern or not.  I had heard about the sweetners but thought, "Well, I'm not getting cravings from that…I have good willpower."  Yeah, right.  What am I, superwoman? I figured out that my craving patterns almost always followed when I had some kind of sweetener.  (stevia does not do this to me)
Don't discredit yourself:  You're going to say, "I know my limits, and I can't give up sugar."  I am the ultimate sugarbug, and I am telling you!!!  My sisters struggle with this, too!  You are so convinced that I have no idea how bad YOU are, but I KNOW.  And I'm serious.  Cut it out.  You HAVE to.  It sucks at first, and it's eye-opening later on when you realize it's a big deal, but not as big as you think.  You still won't believe me, and I don't know what else to say.  I know it's a fact, but I had to do it myself to believe it.  Sugar is not natural, so please do not rationalize it with that thought.  It's nasty stuff, and it is so far from its original form that we can say it's just another chemical that's messing you up!
The other VERY important thing is this: GET SLEEP.  Yup.  Sleep.  When I'm tired, that's when I cave.  Nearly EVERY time.  This is one of my biggest and most helpful discoveries.  Knowing it is one thing.  Honoring it and GETTING sleep is the other half.  I had to give it respect, because life tends to draw on your sleep–don't allow this.
When it's outta control: I eat frozen berries with the stevia on top.  The other trick is white tea with stevia.  Two more tricks: 1) GET OUT OF THE HOUSE, because you're only going to open and close cabinets/fridge a gazillion times and wind up making some weird thing with corn syrup and flour and protein powder and then cave anyway.  2) Write down your craving escape paths.  Write down the berry thing and have it avail in the house.  If you're used to having a craving and your mind is used to thinking 'chips, soda, chocolate', you will NEVER get the clarity to even THINK of berries.  Have a PLAN.  You will have cravings, so what are you going to DO ABOUT IT????  Decide NOW.
Do you have any foods you know you probably should give up but won't?  Are you able to incorporate that food without it sabotaging all your effort?
Hm.  Probably coffee.  The reason is because if you have coffee, you want creamer.  And you don't want stevia, you want sugar.  Or Splenda.  And I am not doing either.  So I make the coffee with a little creamer that is nonfat, and I can say this: that stuff bloats me if I take too much. Plus it's fake stuff, that creamer, right?  But I love my coffee.  I just have completely sworn off of any sweetner other than stevia, and I do not use 'yummy' or those 'liquid creamers'.
If you were stuck on a desert island what one food would you want with you?
Cashew butter.  Haha!  I'd be so lean that I could eat lots!
You have an online trainer right?  What's that like?  How is it helpful to you?
I train with Kim Oddo, at Body by O.  I did some research, and I like his integrity, his style, his method of communication, his knowledge, background, client results, and professionalism.  I have a very strong work ethic.  I tend to research and figure out thigs like how a muscle is attached and how it moves, and what I need to be feeling to know it's getting worked.  Because of this kind of thing, I am a good candidate for online training.  I don't mind that I never see my trainer, nor do I train with anyone.
Here is the thing.  Most people have the capability to learn how to train, to diet, can research, etc.  I have a very time consuming job, and while I do research, this is not my area of expertise.  I feel that I need some guidance; I know very little compared to what an expert with experience knows.  I want that expertise and I am willing to pay for that.  It relieves me of much research and of trying to figure out which path to take to the stage–there are so many! Not one way is right!
In addition, I look at myself and 'think' I know what I need to do, but I am not sure.  I really am still a rookie in this sport. I also do not have an objective eye when looking at my own photos.  I don't know exactly what the judges might be wanting, but the judges do communicate with the coaches, and coaches take time to interview judges.
I like the 'accountability', in other words, if my trainer wants a photo of my progress, I know I can't be messing around!  I want to show that trainer that my work ethic is there!  I want to 'represent' for that trainer because I support that trainer.
Together, all of these things make me a less worried competitor, a more informed competitor, and a better presentation on stage.  Competition is in some ways, an extreme sport.  You have the opportunity to challenge yourself, but you can also mess up and be malnourished, overtrained, and generally go backward in health rather than forward.   I have an experienced trainer who knows the pitfalls and I have had a wonderful experience in my contest prep because I remained sane and had my health the entire time.  This is what I was looking for when I hired him.

How often do you workout?
Right now, 6 days a week.
What is your favorite exercise?
Behind the head shoulder press.  I really feel my delts burning!!!  It doesn't bother my shoulders (and many trainers recommend NOT doing this exercise due to stress on the shoulder joint), and I put it in my program here and there because I like how it holds my posture up and that BURN!!!
How do you feel about cardio?  Is there a particular form of cardio you really enjoy?
Cardio is…well, it CAN be boring.  When it's intense, I really hate it at the moment, but after each burst of intensity, I am loving it–does that make sense?  I really enjoy sprints.  I had a knee injury last year, and I had a hard, hard time doing anything intense.  I have most of my knee function back after cutting Splenda out (!!!!) , so I love to dig in and GO!  I feel like I earned my supper.  I also love Zumba, but at times, it's too easy because I have done a couple of months of it.  My body gets really efficient, so I switch things up to keep myself really challenged and not 'cruising'.
Favorite brand of workouts clothes?
Fizeek Brazil, hands down.  The pants are awesome!
What motivates you?
I am competitive! I want to win– I want to be the BEST….I have always sought competition in things I have done, from flying to riding a bike.
I am motivated by possibility.  To see someone achieve something makes me think, "Why not me?"
I am motivated by success.  When I am successful in one area or at one step in a process, I really want to smoke the next part!
I am motivated by the faith that other people have in me; I cannot, will not let them down.  I do feel like I need to push for them, too.
I am motivated by the lack of faith in me, too.  If you tell me I can't, I am going to be sure you see that I CAN.
What goals have you reached?
Competing!!!  I didn't even have a placing…just to get on stage was a big, huge deal, and I did it!
Being 'inspirational'.  I really want to be a little fire burning at your bootay to get movin!!!
Before that, completing 12 weeks on Body for Life! Can I tell you— when you're in the middle of the weeks, down in the trenches doing that program, it seems like a long, hard road.  I started and stopped many 'programs' in the middle because they got tough; to complete one and enter the official challenge was a big accomplishment.  I learned a lot about myself along the way.
I definitely want to place first in a national show.  I want to be inspirational, and I can do that when people know who I am.  I have so many ideas and ways that I want to incorporate fitness, motivation, etc.  Narrowing it down to something that I can handle and actually make work is a goal that I need to focus more on!
Are you a scale addict?  Do you ever have "bad scale days"?
Yeah, kind of!  I get on there, but if it's a bad number, I'm much more informed and know it's bogus than I was in the past.  I go up 3 to 6 pounds after a trip, every single time.  I had a 124 on the day of departure, and returned 48 hours later to 130.  That is the effect of cortisol and water, it's not even possible that I would have eaten 18,000 calories!!! Ha!  You really do learn the way of that dumb scale, so I get on it every day, just about, because it's kind of interesting at this point!
How do you track your progress?
Pictures!! (Click on the above to see what this girl acheived with her legs!) I also have a habit of writing weight down in a little planner, and "W,H,T."  That's waist, hips, thigh.  I just measure them every week first thing in the morning and write down the biggest number I get in the area being measured.  It's great to watch the numbers come down, and to compare different years.
Do you know if any friends (besides me ;-)) or family have made lifestyle changes because of you?
I do know my close friends are eating clean because of me.  I think it has to do with the relatability of someone who they see as 'one of theirs' accomplishing something.  They then feel that it is possible for them, too, because I am not a celebrity, not a special anything– and they can see, step by step, exactly how it happens.  There is no mystery, no special technique, no magic supplement.
I know from being on the online forum with you that you are good at offering motivational advice.  Any you could share?
I guess just to really give you a reality check on yourself.  Look, you're staring at these girls in these magazines and thinking 'that's her'….when in reality, why don't you think, "I can do that!"?
Tell me this…why not YOU?  What makes you so much less special than any other human being?  What does someone else have that YOU don't?
What are you waiting for?  Why not YOU…why not NOW?  There is no perfect moment, no perfect setup.  But you DO have to decide that you are 100% as capable as the next person.  You DO have to realize that YOU are your own worst enemy.  WHAT MOVES you?  What do you CARE about when it comes to your REASON for getting fit?  The WAY that you motivate yourself is to figure out WHAT IT IS THAT MAKES YOU TICK.  It's not what the magazines say, and it's not what makes me tick.
Moms: Picture this– you're at the park, your little shiny haired toddlers are running all over the grass, full of energy and life.  Your family and friends are standing over the picnic table, asking that 'adult' question, "Where do these kids get all this energy?"  And you suddenly smile, and feel a jolt of playfulness.  You leave the table, and run to your kids.  You don't care that you have shorts on, and you don't care how you look as you pick up your little boy and are able to lift him over your head as he squeals with delight! 'mama's got me'!  You laugh and get right down in the grass with your little ones, and you soak up that moment!  Focusing on the kids, laughing in the sun, not a single thought of what you look like , not a single out of breath struggle as you lift up your children.  Don't you want to be this mom??? Isn't it worth this moment???
Redefine yourself.  Who do you want to be?  What are you doing right now that the NEW you would never do?  Step into your new shoes, sister, and start walking in them.
Or you can leave them there and see if someone else can fill them.
But then you'll never get to take that walk.  And in a month from now, will you still be standing here???  Your life is moving on, and it's time to keep up.
And just for fun!  If you could have one super power what would it be?
To fly! Without a plane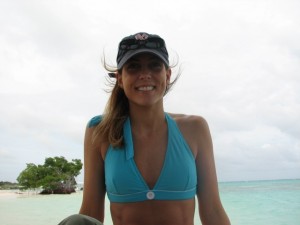 Tara's pretty awesome, huh!  I've mentioned she should start a blog because not only would it be fascinating hearing about her travels, it would be CRAZY INSPIRATIONAL!  I know she's busy but one can always hope!   Tara, thank you so much for taking the time to answer the questions and share your life with others.  You are truly a Girl Hero!!!
xoxo
Jenn
If you enjoyed this this post please Subscribe to the RSS Feed.
Sign up to have posts emailed to your inbox.
Pin It