Amazonian Workout
"Girls Training Like Amazonian Women"
If someone finding my site through that search phrase doesn't boost the ego, I don't know what does.  😉
In honor of weirdo search terms….
The Amazonian Workout
1/4 mile jog
20 snatches (10 right and left)
Repeat 4x for a total of 1 mile and 80 snatches.
Fun, fast and effective.  I went for time and my goal was to be done in less than 15 minutes.  Made it by 37 seconds.
The park has some parallel bars so, afterwards, I decided to practice (and boy do they need practice) bar dips and L-sits before calling it a day.
In other "news", I went to a health blogger meet up this past weekend.  We had a good time at Real Food Daily in Santa Monica.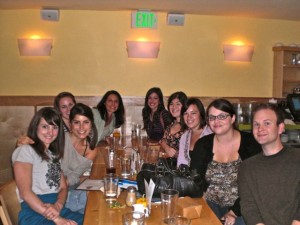 Clockwise from L-R: Me, Katie from A Joy in Class, Monica from Yellow Brick Beauty, Deb from Smoothie Girl Eats Too, Shannon from Pretty Fit, Pretty Healthy, Pretty Happy, Kaitlin from Kaitlin with Honey, Katherine from Left Coast Contessa and Amanda and Andy from Two Boos Who Eat.  Ameena from Fancy This and Fancy That and Erika from Health and Happiness in LA were also there but had to leave before we got the picture.
Oh and we have a new "house guest" visiting this week.
Oscar.  (Yes.  He is a wiener dog.) He's only been here a day and already he has made himself pretty comfortable.  Maybe because we have some things in common, primarily, a love for food and sleep.  Seriously, I have been about as motivated as a lazy wiener dog the last few weeks.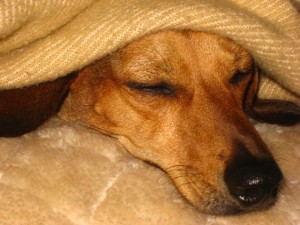 Anyone else lacking motivation right now?  What weirdo search terms bring people to your blog?  Amazon women..scary or sexy?
Hope your week has started off on the right foot!
Hugs and High Fives,
Jenn
If you enjoyed this post please Subscribe to the RSS Feed.
or
Sign up to have posts emailed to your inbox.
Pin It