Move It Monday: "The Black" Workout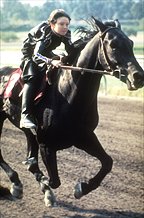 (source)
Last Thursday, I hit the track at a local park.  My kettlebells were at home snuggling so I decided to make do with bodyweight only.   It was a perfect morning for a workout grey and misty.  I felt like a racehorse up before dawn for a morning workout.  <=== Next to my junior high"secret book of poetry", that is probably the corniest thing I have ever written in my life. Anyway speaking of racehorses…I was the second fastest kid in my kindergarten class, only losing to Josh Skillman, which made me the fastest girl in my class.  This 5 year old's claim to fame was attributed to The Black Stallion.  Remember that movie?  I was obsessed (ODDLY OBSESSED) with the The Black Stallion and every time I would race, in my head,  I pretended I was "The Black" galloping down the track against Cyclone and Sun Raider.  The joys of childhood.
The Workout
(Secretariat just came out.  Feel free to pretend.)
1 lap (1/4 mile) easy jog
100 m sprint, 100 m walk x4
(Sprinted the straightaways & walked the curves2x around the track)
(rest)
Tabata Pushups (Click on the link if aren't sure what Tabata is)

(rest)
100 m sprint, 100 m walk x4
(Sprinted the straightaways & walked the curves 2x around the track)
1 lap (1/4 mile) easy jog
For Time: I decided to time it so next time I can try to beat my time.  Mine was 27:39
Regarding time,  I used the stopwatch on my phone and the Gymboss Iphone app which is FREE!
The total distance is only 1.5 miles when broke down includes a 1/2 mile easy jog, 1/2 mile sprint, 1/2 mile walk.  (I just wanted to show off my mad math skillzzzz!)
I loved this workout.  I felt it the rest of the day and I nearly cried when my taekwondo teacher asked us to do pushups that evening.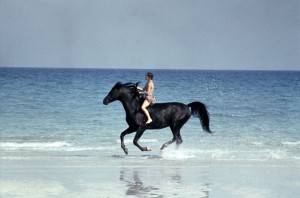 (source)
What was your favorite childhood movie? Did anyone else LOVE The Black Stallion movie?  Horses still make my knees go weak and, truth be told, I still have this little dream of riding my own black Arabian stallion in a loin cloth on the beach some day.
Hugs and High Fives,
Jenn
If you enjoyed this post please Subscribe to the RSS Feed.
Sign up to have posts emailed to your inbox.
Pin It