Can't Believe They Are Collards!!!!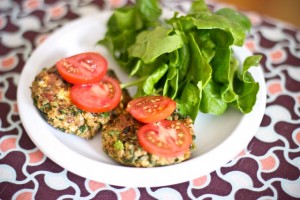 I've mentioned it before but I'm not crazy about vegetables.  I like vegetables and will choose to choke down a plate of plain swiss chard because I know it's good for me.  However, if I didn't know the things I know about food, I'd probably eat things like fish & chips or pizza (and I'm not talking healthified versions either) every night.  So when I come up with a recipe that makes me crave veggies, I pull out a ladder, climb to the top of my roof, and shout, "I can't believe they are collards!!!".
Can't Believe They Are Collards Veggie Patties!!!!!
Coconut Oil
Large Bunch of Collard Greens – Chopped
1/2 Onion – Chopped
2 Garlic Cloves – Diced
4 Pieces of Ezekiel Bread – or other (preferably sprouted) bread
1/2 Tbs Dried Parsley
1/4 Cup Fresh Basil
2 Tbs Sun Dried Tomatoes
Sea Salt
Pepper
1/2 Cup of Feta
4 eggs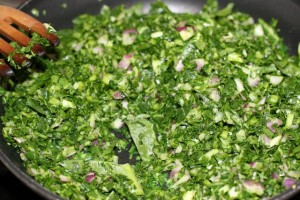 1. In a pan sauté the collard greens, onion, and garlic in a bit of coconut oil until just soft.
2. Toast the Ezekiel bread and put it in a food processor with the parsley, basil, and sun dried tomatoes.  Add salt and pepper to taste as well.  Process until you have a well blended bread crumb mixture.
3. In a bowl, combine the vegetables, bread crumb mixture, feta, and eggs.  Knead until it is well mixed.
4. Shape into little patties and pan fry over medium heat in the coconut oil until golden brown.
5. Place cooked patties on a paper towel lined plate absorb some of the excess oil
Makes 8-10 patties.
My favorite way to eat them is to top with fresh tomato and a bit of balsamic vinegar.
This past weekend, I tripled the recipe and froze them for quick easy lunches.
Theses are SO GOOD.  No joke.  At least, I love them, Brent loves them, and even my 10 year old who scorns my cooking said they were "pretty good".  Then he ate an entire one.  If that doesn't say something nothing does.
Hugs and High Fives,
Jenn
If you enjoyed this post please Subscribe to the RSS Feed.
Sign up to have posts emailed to your inbox.
Pin It