Tasty Tuesday: Southwest Chicken Pizza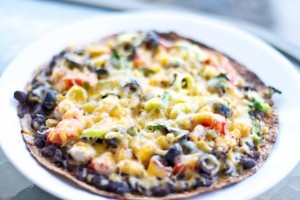 I could eat pizza everyday.  Except that I try to limit white flour products and most "whole wheat" pizza crusts at the store aren't really whole wheat.  Not to mention in an "ideal world" I would only eat sprouted wheat but unfortunately that is not my real world.  Enter the Ezekiel tortilla.  Ezekiel bread has been my bread of choice for the past 6 years but my love affair with Ezekiel tortillas is still in its honeymoon phase.  I'm excited about our future together.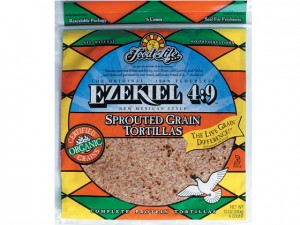 Southwest Chicken Pizza
1 Ezekiel Tortilla
1/2 Cup Black Beans
2 Tbs Salsa
1/4 Cup Shredded Cheese Mexican Blend
2 oz Grilled Chicken (small handful)
Fresh Tomato (chopped)
Cilantro (chopped)
Fire Roasted Bell Pepper (Chopped)
Black Olives
1.  Grill your chicken.
Brent sprinkled lemon juice and garlic salt on the chicken while it was cooking.
When it was almost done he basted it with a bit of BBQ sauce.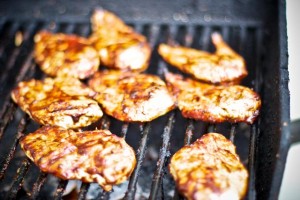 2. Layer your tortilla with the rest of the ingredients.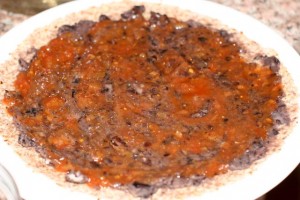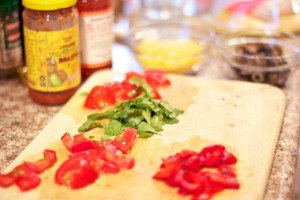 3. Put your pizza back on the grill until the bottom is crispy and the cheese is melty.
I also make these in the toaster oven or oven.
My trick is to lightly toast the tortilla before piling on toppings.
Then stick it in the oven again for a second go around.
But this day we used the grill.  Yum.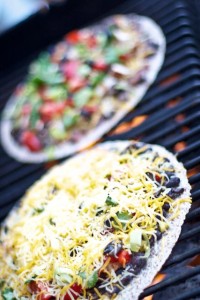 Nutritional info according to the above recipe.
1 pizza: 549 calories*, 53 g carbs, 39 g protein, 20 g fat
(Calories could easily be cut by using low-fat cheese and or reducing the amount.)
I should note that this pizza has a nice 12 g of fiber.
Mine with the cheese hidden under the veggies.
What you can't see can't hurt. 😉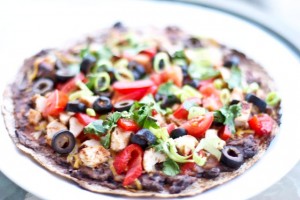 Not only to do love pizza but I love other bloggers.
I'm honored to be featured over on Lisa's awesome blog Workout Mommy.
I'd be thrilled if you go check out my  One Fit Mommy interview!
Hugs and High Fives,
Jenn

If you enjoyed this this post please Subscribe to the RSS Feed.
Sign up to have posts emailed to your inbox.
Pin It