Very Short Workout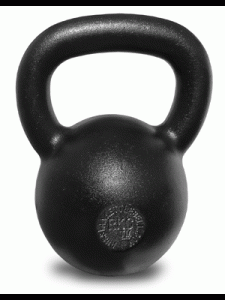 Hello!!!!
Today is going to be a short post (aren't most of them…I try anyway

) because I'm on my way out the door to coach my kettlebell class and train clients.
First, I wanted to say that today is a The Great Fundraising Act Auction for Susan who was diagnosed with Lymphoma a few weeks ago. Her out of pocket medical bills are going to be in the thousands so the online health blogger community, headed up by Janetha, is coming together to help her out.  I've donated an online via Skype (or in person for those of you who live in the Ventura county area) kettlebell training session.
Second, I don't have a lot of time today or this week for that matter (been busy looking for our new "home") to workout so I'm going to be doing this very short workout today.  I'll make the rest of my weekly plan later today.
Very Short Workout
Swings – 30
Ground to Overhead* – 30
Burpees – 30
As many times as possible in 10 minutes.  It's killer.
"Ground to Overheads" are what I call (Does anyone else?  Is there another name?) squatting to pick the kettlebell off the ground, standing up, and then using both hands to press it overhead.  A very tiring and functional movement.  Just be sure to keep the spine in a neutral position, i.e, no rounding over.
Alrighty, gotta get going.  Don't want to be late!  Have an awesome day!
Hugs and High Fives,
Jenn
Pin It