Full Body Kettlebell Workout – Alabama
This kettlebell workout was filmed in Alabama  when we visited the Tannehill Ironworks Historical State Park. How could I pass lifting iron at an old ironworks furnance? The ironworks industry in Alabama played an important role during The Civil War supplying much of the iron used for the war. This particular furnace was nearly destroyed by Union forces during the last months of the war.
History lesson over. Now onto the workout.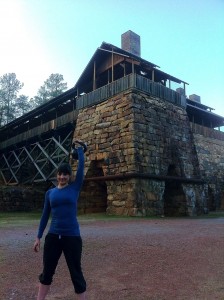 Alabama
Part One
Turkish Get Ups – Alternate Sides for 7 minutes
Part Two
2a. Thrusters – 5 on each side
2b. Burpees (push up optional) – 5
Alternate between 2a and 2b for 7 minutes.
Part 1 – Turkish Get Ups are one of my favorite kettlebell exercises that I, honestly, don't practice enough. Not only are they are excellent for developing mobility, stability, and overall strength, they are beautiful and relaxing.  I started with the Get Ups, as opposed to putting them at the end, while I was strong and without any sort of fatigue.
Part 2 – Find a pace that is challenging but not but not excruciating. You should never be in "pain". Discomfort, yes. Pain, no. It's important to learn to tell the difference.
Hugs and High Fives,
Jenn
If you enjoyed this post you can follow one of three ways! 1. Subscribe to the RSS Feed 2. "like" Girl Heroes on Facebook, or 3. Sign up to have posts emailed to your inbox. Simple dimple!
Check out our family's adventures at New School Nomads as we take a year long RV road trip through the United States!
Pin It