Quinoa Tabouli
I finally found time to make a new recipe. A tabouli recipe. If you want to call it a recipe. Tabouli is sort of a like a caprese salad. There are pretty standard ingredients with a few variations among recipes.
Although, by necessity, mine makes a slight divergence.
When I was at Robert is Here, I bought some parsley with the intention of making tabouli. However, when we settled down in the everglades I realized I didn't have any bulgur a traditional ingredient in tabouli.
When you are in the Everglades you just don't run out to the store unless it's the campground store to buy mosquito spray or Spam. Both will kill you if used enough. 😉
Anyway I decided to improvise with what I had on hand, quinoa.
Quinoa Tabouli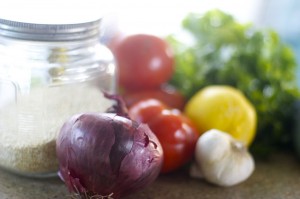 1 Bunch of Parsley
3 Tomatoes
1 Clove of Garlic (pressed)
1 Lemon (the juice squeezed)
2 Tbs Olive Oil
1 Cup of Quinoa (measured uncooked)
Sea Salt and Pepper to Taste
Cook the quinoa. I always cook mine using a ratio of 1:1. I bring the water to the boil stir in the quinoa and some salt. I let it continue to boil for a minute or two before I off the heat, cover it, and leave it. No clue if this is the "proper" way to cook quinoa but it always works for me.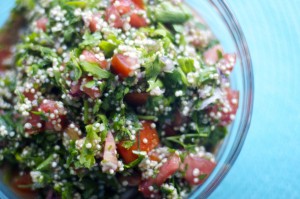 While the quinoa is doing its thing, I chop the parsley (fine), the tomatoes (course), squeezed the lemon, and pressed the garlic. By the time, I'm done with all this, the quinoa is ready to be tossed in a bowl with everything else. Simple dimple!
Hugs and High Fives,
Jenn
If you enjoyed this post you can follow one of three ways! 1. Subscribe to the RSS Feed 2. "like" Girl Heroes on Facebook, or 3. Sign up to have posts emailed to your inbox. Simple dimple!
Check out our family's adventures at New School Nomads as we take a year long RV road trip through the United States!
Pin It