Another Kettlebell Workout Video from that Crazy Traveling Workout Girl- New Jersey
Unfortunately, I'm running out of title ideas for my kettlebell workout videos. The provocative workout titles that are so popular right now just aren't my style so literal titles will have to do until I think of something else! Sorry!
Anway, I finally found (made?) the time to edit another kettlebell workout video.  Now I just need to make some time to actually workout after spending hours on the computer.
In June, we spent about two weeks in New Jersey, if you don't count the 9 glamourous days we spent in the Walmart parking lot commuting into NYC.
We filmed this kettlebell workout video in Princeton. We parked in one of my college best friend's mom's driveway and it was so much fun to catch up and see the town my friend grew up in. Princeton was charming. I thought about filming the workout in one of the gardens on the Princeton University campus since New Jersey is "The Garden State" but thought working out on campus might raise security eyebrows. So we found a nearby park that turned out to be a very peaceful place for a morning workout.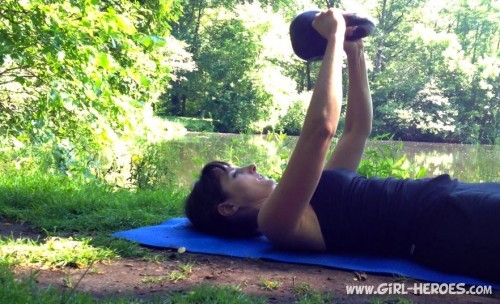 Strength and Conditioning Kettlebell Workout – New Jersey
This one is a little different from my other kettlebell workout videos because it starts on the ground. They aren't moves I do regulary but enjoyed changing things up a little.
Part 1
1. One Arm Floor Press – 5 each side
2. KB Pullovers – 5
3. Glute Bridge – 10
Part 1 is strength based.  Repeat kettlebell exercises 3-5x.
Part 2
1. Swings
2. Hot Potatoes
3. Swings
4. KB Toss
5. Swings
Part two is conditioning based. Complete intervals at a 30/30 or 40/20 work to rest ration or whatever ratio works best for you. Repeat circuit 2-5x.
Well that's it for today. I'm almost done editing my New York kettlebell workout video. It was one of the coolest workout locations so far!
Hugs and High Fives,
Jenn
Keep up with my kettlebell workouts, real food recipes, and more in one of three ways! 1. Sign up to have posts emailed to your inbox. 2. Subscribe to the RSS Feed or 3. "like" Girl Heroes on Facebook. Simple dimple!
Journey with our family on the road at New School Nomads as we travel fulltime in RV through the United States!
Pin It