Kettlebell Routine – West Virginia
I'm taking a break from my beginner kettlebell routine this week and posting a more advanced workout video.
The first half of the workout starts with a kettlbell complex that is repeated four times on each side. I'm not sure what was going on but when I did my left high pull I found out my shoulder was stiff. It took me by surprise as this had never happened before. I've been a little lazy regarding mobility work since I started traveling. Taking my stiff shoulder as a sign that it's time to get back to consistent mobility work. Another thing I noticed is I should have taken more time with the eccentric presses. Recording my videos has been a great way to continue to try to improve my own form.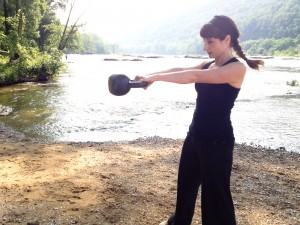 Here is the workout.
West Virginia Kettlebell Routine
Part A – Kettlebell Complex
1. Snatch Up
2. Eccentric Press (Lower to the rack)
3. Squat
4. Press
Repeat 4 times each side.
Part B – Kettlebell Ladder
1. Swings 80, 70, 60, 50, 40, 30, 20, 10
2. Rows 8, 7, 6, 5, 4, 3, 2, 1
Do 80 swings followed by 8 rows and continue working down to 10 and 1. As always adjust as needed. 
Regarding my personal life, it's been a wonderfully crazy two weeks filled with old friends, new friends, and lots of adventure. I've been so busy I've only had time for one workout. We spent a week in New York City where I saw lots of old friends and recorded my New York kettlebell workout in a killer location. Then we spent a 5 days at a rally with other families who live on the road fulltime in RVs. It was amazing.  I was hoping to do a group kettlebell workout but we ran out of time.
Despite not having time to blog or do kettlebell workouts I'm having an amazing time.
Hugs and High Fives,
Jenn
If you enjoyed this post you can follow one of three ways! 1. Sign up to have posts emailed to your inbox. 2. Subscribe to the RSS Feed or 3. "like" Girl Heroes on Facebook (Be sure to click "subscribe" if you want posts to show up in your feed.) Simple dimple!
Journey with our family on the road at New School Nomads as we take a year long RV road trip through the United States!
Pin It