Do it! Or not. (Getting back into an exercise routine.)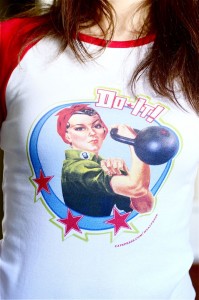 New babies.  Sickness.  New jobs.  Lost jobs.  Moving.  Travel.  Injuries.
Life happens, sometimes with a super sized portion of "BUSY" making it nearly impossible to maintain a routine.  Especially if you're like me and easily get overwhelmed.
I'm all about making priorities but sometimes priorities mean there is very little time for exercise.  The last two months have been crazy busy as we got our house ready to rent and moved into our new place.  I wanted to keep up my exercise routine but, the fact of the matter was, I didn't have time.  It wasn't an excuse.  From morning to night, I was cramming my schedule trying to meet the move out/in deadline.
But…
…the deadline came and went.  The new tenants moved in.  We moved.  We halfway unpacked.  We settled in to our new house.
And I still didn't "have time" even when I did.  It wasn't time I didn't have, I didn't have a  routine and it was time to get back to it.
There is nothing like "getting back into a routine" that makes me wish I never would have gotten out of routine but like I said, "life happens". Despite, what some "fitness Nazis" might say, there are valid reasons for not working out but, at some point, it has to become a priority again if I want to not alienate everyone around me live a full life.
So how did I get back into a exercise routine?
1. First of all, I reminded myself that it's okay to fall out of routine or as some people say, "fall off the wagon".   I had been extremely busy and the last thing I needed was a self-imposed guilt trip. That would be useless.
2. Then I reminded myself why I needed a routine. 1. If I don't have a routine I won't exercise.  2. If I don't exercise I get lethargic, grumpy, and sad (among other things) and I don't want to be lethargic, grumpy, and sad (among other things).
3. Next, I looked at my calendar and decided what days I could fit in my workouts and then I wrote them down. If I don't write things down I, more often than not, won't do it.
4. I started small and planned two, short, medium intensity workouts a week.  This didn't overwhelm me and would give my body and mind a chance to ease back into it.
5. Lastly, I followed through one workout at a time.  After a few workouts, I remembered how much I needed that release and chance to clear my head and each one became a little easier until I found myself back into my routine.
I've been back into full "swing" for a few weeks now.  I may have "fallen off the wagon" for a short time but you know what?  It's okay.  I may have lost a little strength and gained a few pounds but you know what?  It's okay.  Today is what matters and as long as I'm being honest with myself and doing the best I can, then…well…there is not much more to do.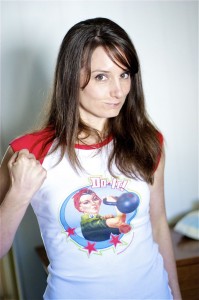 (One of my clients gave me this shirt as a gift. Is that not the coolest!)
Hugs and High Fives,
Jenn
If you enjoyed this post please Subscribe to the RSS Feed.
or
Sign up to have posts emailed to your inbox.
Pin It