Santa Maria BBQ Style Chicken Recipe
Brent grew up in Santa Maria, California. Santa Maria is known for its unique and delicious style of BBQ and Brent's barbecuing skills are no less impressive than the BBQ from town where he grew up.
He was destined to be a GRILL Hero from birth.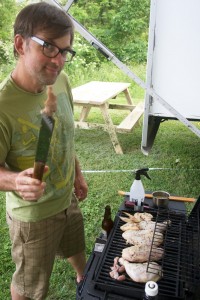 Just look at that confidence at the grill!
Traditional Santa Maria BBQ is tri-tip, a specific cut of beef, but there is an equally amazing and easy way to barbecue chicken. The key to amazing Santa Maria BBQ chicken is not in the ingredients, they are ridiculously simple, but in technique. Get the technique down and you will be on your way to becoming a Grill Hero too.  😉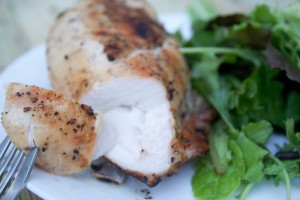 Santa Maria BBQ Style Chicken
Chicken Breasts (Bone In)
Bottle of Beer
Italian Dressing Seasoning Packet
Garlic Salt
Pepper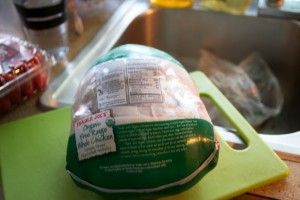 We buy a whole chicken and quarter it ourselves. If you are quartering your own chicken leave the skin on.
1. Rinse and dry chicken.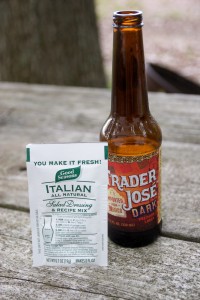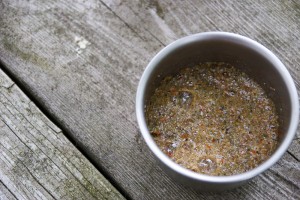 2. Mix one packet of Italian dressing seasonings with half bottle of beer (about 6 oz). Brent prefers beers with stronger flavor. (Firestone and Bluemoon are two of his favorites.)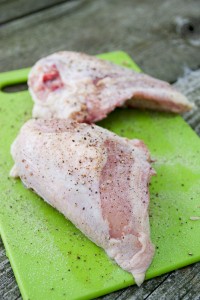 3. Generously sprinkle both sides of the chicken with garlic salt and pepper.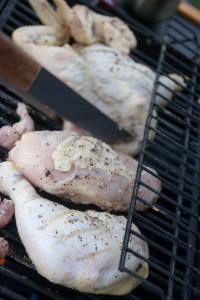 4. Place chicken on the grill bone side down. Let it cook over medium heat for about 15 minutes or until the skin starts to get golden brown.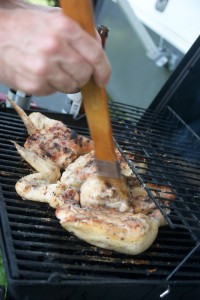 5. Flip over the chicken and start basting heavily. The idea is to dry out the meat when you are cooking it boneside down and rehydrate with the beer baste. Cook for another 10-20 minutes depending on the size of your chicken, basting the entire time.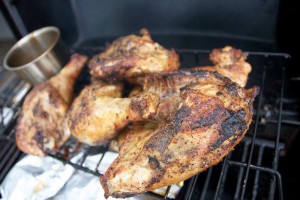 6. You can tell when it's done because the meat starts to get firm and it's no longer pink on the inside.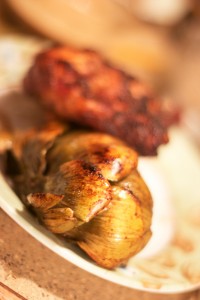 My favorite thing to eat Santa Maria BBQ chicken with is grilled artichokes. Heavenly! I will have to post how Brent makes these soon.
The best part of Santa Maria BBQ chicken is that I don't have to listen to my kids complain. They love it! Almost as much as I do.
Hugs and High Fives,
Jenn
If you enjoyed this post you can follow one of three ways! 1. Sign up to have posts emailed to your inbox. 2. Subscribe to the RSS Feed or 3. "like" Girl Heroes on Facebook (Be sure to click "subscribe" if you want posts to show up in your feed.) Simple dimple!
Journey with our family on the road at New School Nomads as we take a year long RV road trip through the United States!
Pin It