Grain and Gluten Free Fried Green Tomatoes (with eggs)
This grain and gluten free fried green tomato recipe isn't really a recipe. It's more of a fried green tomato experiment that happened to work out.
I always refer to these posts as How to I Make ____ because really how many ways can you make a fried green tomato? Tomatoes, breading, salt, pepper, egg, and oil.
Ever since we spent time in South Carolina I've been having cravings for fried green tomatoes. So when I saw green tomatoes at the farmers market last weekend I snatched them up. If we ever settle back down I'm going to grow tomatoes just so I can have green ones.
Since I try to limit grains, I decided to bread them with the Trader Joe's Almond Meal I had on hand.
Grain and Gluten Free Fried Green Tomatoes
2 Green Tomatoes
2 Eggs
About 1/2 cup of Almond Meal or Flour
Salt
Pepper
About 1/2 Cup of Coconut Oil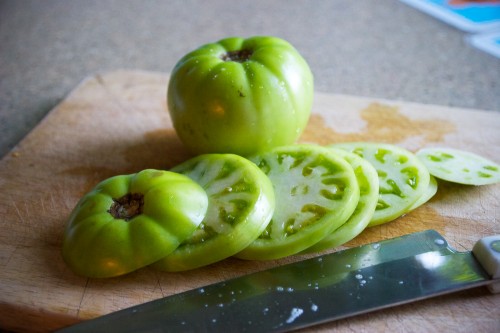 1. I sliced the tomatoes. Brilliant, I know.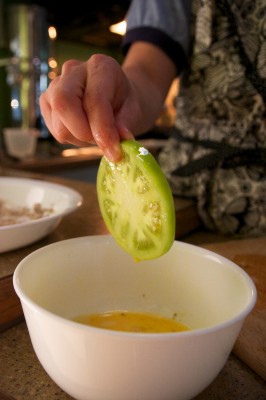 2. I dipped the tomato slices in the egg.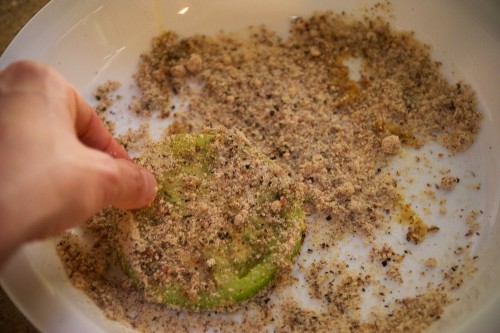 3. Then I covered them in almond meal. I had mixed in lots of salt and ground pepper in the almond meal beforehand.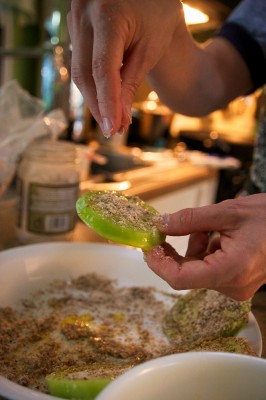 4. The flour started getting icky so it was easier to just sprinkle it on instead of dredging the tomatoes in the almond flour.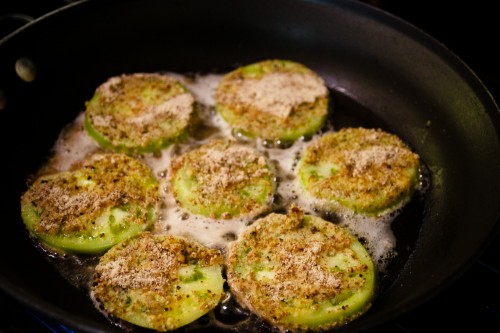 5. I pan fried them in, my favorite cooking oil, coconut oil over high heat until almond meal was crispy.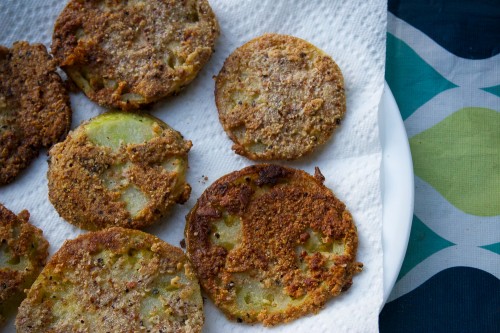 6. Put them on a paper towel to soak up some of the extra oil.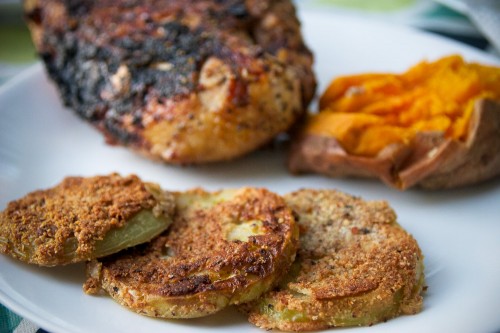 They went well with Brent's Santa Maria BBQ Style Chicken and baked sweet potatoes. So good.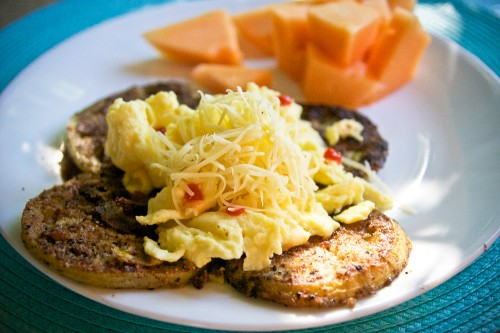 And they were even better the next morning when I toasted the leftovers and topped them with eggs, hot sauce, and sharp cheddar. My idea of a perfect breakfast.
As far as I can tell, I'm not gluten intolerant but whenever there is an option to make something without grains I usually decide to go that route. It doesn't always work out but in this case it did.
Do you like friend green tomatoes? Would you have made grain and gluten free fried green tomatoes or would you have gone with the traditional flour?
Hugs and High Fives,
Jenn
Keep up with my kettlebell workouts, real food recipes, and more in one of three ways! 1. Sign up to have posts emailed to your inbox. 2. Subscribe to the RSS Feed or 3. "like" Girl Heroes on Facebook. Simple dimple!
Journey with our family on the road at New School Nomads as we travel fulltime in RV through the United States!
Pin It