You Are Enough Kettlebell Workout – North Dakota
Sometimes I regret choosing to film these kettlebell workout video series. It's not often but sometimes I wonder, "What in the world was I thinking?" My head fills with doubts about my body, my ability, and my strength. Or it's hard to find a perfect workout location or the weather is sweltering or freezing. You know, excuses.
But sometimes….
The location is perfect, right outside my front door. And at the foot of bad lands where wild horses roam free, I remember that I am enough as I am. I remember my strength lies not in how many pullups I can or cannot do but in my Creator who loves and guides me.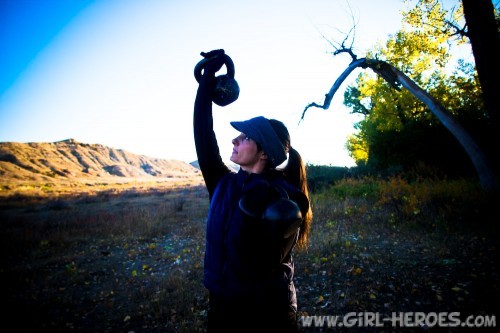 You Are Enough Kettlebell Workout
Part I
A. Kettlebell Seesaw Presses 5, 4, 3, 2, 1 (each arm)
B. Kettlebell Renegade Row 5, 4, 3, 2, 1 (each arm)
C. Kettlebell Single Leg Deadlift 5, 4, 3, 2, 1 (each leg)
Part II
Kettlebell Swings – 60, 50, 40, 30, 20, 10 (6 sets)
Complete A-B as a descending ladder. Once you finish one rep (each arm and leg) of each then move onto part II, the kettlebell swings. Rest as needed.
Note: It looks like I'm rounding my back during the swings in the video. While I do sometimes I have tendency to unpack my shoulders (I constantly have to remind myself to get them down and back), the vest is puffing out at the back. Don't mistake that as a cue to round your back. Keep it flat with a natural curve!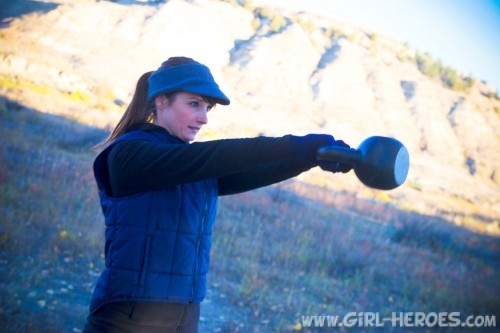 Alright guys that's it! I'm not sure what kettlebell workout number this is but I'm making progress through all 48 states and someday hopefully 50. Slowly but surely!
Have a wonderful weekend and remember you are enough just the way you are! 
Hugs and High Fives,
Jenn
Keep up with my kettlebell workouts, real food recipes, and more in one of three ways! 1. Sign up to have posts emailed to your inbox. 2. Subscribe to the RSS Feed or 3. "like" Girl Heroes on Facebook. Simple dimple!
Journey with our family on the road at Newschool Nomads as we travel fulltime in RV through the United States.
Pin It