Louisiana – Kettlebell Circuit Workout
Typically, I don't plan where I'm going to do my workouts. I just keep a kettlebell in our truck and hope for the best. Sometimes this works out great and other times….I well….end up lugging kettlebells through a muddy Longhorn pasture.
It's all part of  being insane the adventure.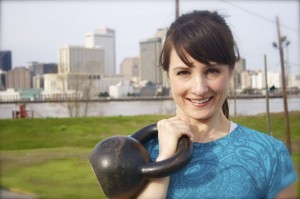 As it turns out there was a lovely spot to workout on the levee at Algiers Point in New Orleans. We left a little early on our way to the WWII museum and I did my workout in front of the skyline of one of the most fun cities in America. Then I spent the rest of my dad walking around New Orleans in dirty workout clothes. Awesome. At least it's better than wearing a dobok around Las Vegas.
Have you ever been to New Orleans? This was my first time and I love, LOVED, it. So did my boys. We actually ended up staying an extra day. You can read about all that we did here.
Now onto the workout!
Louisiana – Full Body Kettlebell Interval Circuit
1. Alternating Kettlebell Clean and Presses
2. Alternating Kettlebell Rows
3. Alternating Kettlebell Snatches
4. Left Single Leg Kettlebell Deadlifts
5. Right Single Leg Kettlebell Deadlifts
6. Kettlebell Toss
7. Lateral Lunges with Reach
8. Hot Potato Squat
9. Kettlebell Swings
I set my gymboss for 9 rounds of 45 seconds of work to 15 seconds of rest. Repeated 1-9 twice for a total os 18 mintues excluding warm up and stretching. I typically foam roll but not after this workout. I had beignets to go eat. Kidding. Sort of.
Here are some possible suggestions for a kettlebell beginner.
– Do 30/30 intervals instead.
– Omit the clean before the press and just hand off the bell between presses.
– Swap out swings for snatches.
–Straight Reaching Single Leg Deadlifts instead of SL kettlebell deadlifts
– Goblet squats instead of potato squats.
Alrighty, we are still in Florida but are headed to Savannah, Georgia and Charleston, South Carolina. Anyone have any suggestions on what to do??? Or live there and want to hang out?
Hugs and High Fives,
Jenn
If you enjoyed this post you can follow one of three ways! 1. Subscribe to the RSS Feed 2. "like" Girl Heroes on Facebook, or 3. Sign up to have posts emailed to your inbox. Simple dimple!
Check out our family's adventures being inspired to follow you dreams at New School Nomads as we take a year long RV road trip through the United States!
Pin It