"Indiana" Workout
I'm skipping ahead a bit.
Texas was the next workout I filmed after New Mexico. But I'm still in the holiday spirit and the last workout I filmed has a holiday feel to it.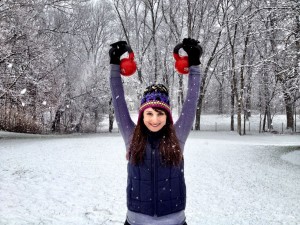 I mean there are bells. They don't jingle but they are red. And best of all there is snow. Beautiful white snow flakes to catch on your tongue and make your mascara run eyelashes.
So I'll go back and post Texas. And Oklahoma. And Arkansas.
But this week it is Indiana, the state I grew up in. In fact, we filmed the workout in front on my childhood home. Awww…
I decided to go lighter than normal for this workout. One, I didn't want to slip in the snow and, two, it's better not to go all out every workout. Of course, if you do the workout choose the weight you need.
Indiana
1. Double Swings
2. Seesaw Presses
3. Double Swings
4. Alternating Rows
5. Double Swings
6. Alternating Lateral Lunges
7. Double Swings
Repeat 1-7 three times for a total of 21 minutes. 
It might also be a good idea to count and write down your reps for every exercise that way you can track your progress. Just a suggestion though. Lately, I've not been too concerned with progress and more concerned with being in the moment and enjoying the experience.
If you only have one bell just do 1 arm presses (or rows) for 20 seconds and then switch to the other arm.
FYI working out it snow was so much fun. It made me feel like doing elf kicks the rest of the day. Just one of the many reasons kettlebells rock.
Hugs and High Fives,
Jenn
Check out our family's adventures at New School Nomads as we take a year long road trip through the United States!
If you enjoyed this post you can follow one of three ways! 1. Subscribe to the RSS Feed 2. "like" on Facebook, or 3. Sign up to have posts emailed to your inbox. Simple dimple!
Pin It