"Nevada" Workout
We left our home in Ventura with almost everything we owned in tow behind us four weeks ago yesterday.
It's been a whirlwind of adventure for sure.  We hadn't planned to go to Nevada so soon but we had an emergency stop that put us right at the border between Arizona and Nevada. While our RV was in the shop we drove across the border and filmed a workout.  I mean what else are you going to do in the nearly desolate desert.  Halfway through the workout it started to rain.  It only added to the experience.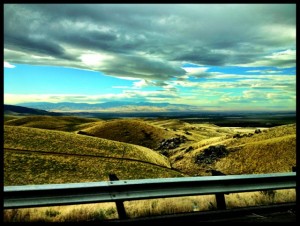 I love the desolation of the desert and mountains.  The more remote the better.  Can't wait to get to west Texas.  I'm also hoping to get back to Nevada.  I've heard eastern Nevada is beautiful so maybe I'll do a "Nevada 2″ next year when we make it back out west.
Nevada
1. Swings – 20
2. Left Arm Press – 5
3. Single Left Arm Swing -20
4. Right Arm Press – 5
5. Single Right Arm Swing – 20
6. Heartbeat Squat (5 "pulses" at the bottom) – 5
Six moves. Six rounds.
For time. (Rest as needed.)
Another thing I love about kettlebells (besides that you take take them almost anywhere) is that you can "flow" between moves by using cleans and switching hands during swings. I find it helps me get into "a zone" more easily than other workout tools.
I'm thinking I need to set some goals for myself.  Right now, I feel as free as the wind which is amazing but it wouldn't hurt to have some sort of workout routine.  Hmm…..
Hugs and High Fives,
Jenn
Check out our family's adventures at New School Nomads as we take a year long (or more) road trip through the United States!
If you enjoyed this post you can follow one of three ways! 1. Subscribe to the RSS Feed 2. "like" on Facebook, or 3. Sign up to have posts emailed to your inbox. Simple dimple!
Pin It