On the road! (Finally)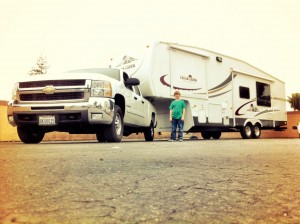 Hi guys!
We moved into the rv!  Finally!
The last two weeks have been B-U-S-Y.  Moving 4 people into a 280 square foot home was not an easy task.  At times is was maddening and I cried puddles more than once.  We left Ventura late Sunday night.  I'm chronicling our travel journey over on my other blog.  However, I'm going to stick with food and fitness here on Girl Heroes!  I'll be discussing the challenges and adventures eating healthy and staying fit on the road.  We joined an community called Harvest Hosts so I'm hoping there be some farms and vineyards to write about too.  Of course, I still want to profile Girl Heroes as time allows!
Ok, I have something to tell you.
I haven't formally worked out in over three weeks.  I miss it.  Sort of.
I'm looking forward to getting back to more a normal, (as normal as it can be when you are living in an rv traveling the country with a husband, two kids, two pugs and a cat) schedule next week.
I'm also looking forward to filming a new kettlebell and/or TRX workout every week in a new location every week.  By the the end of next year, I hope to have at least 48 different workouts filmed in the 48 contiguous states.  If we are still feeling adventurous by the end of next summer, we may even drive up to Alaska.  Iceberg sprints?  😉
Anyway I just wanted to say hi and let you know I haven't abandon this blog.
Thanks for sticking with me through the madness!
Hugs and High Fives,
Jenn
Check out our family's adventures at New School Nomads as we plan to take a year long road trip through the United States!
If you enjoyed this post you can follow one of three ways! 1. Subscribe to the RSS Feed 2. "like" on Facebook, or 3. Sign up to have posts emailed to your inbox. Simple dimple!
Pin It