Twice the Workout in Half the Time – Double Kettlebell Workout – Maine
The best part of about double kettlebell workouts are that you get twice the workout in almost half the time.
The second best thing about double kettlebell workouts are that you look twice as bad ass. 😉
We shot this double kettlebell workout a few months ago in Maine on top of Cadillac Mountain in Acadia National Park. I really can't imagine a more beautiful place to do a kettlebell workout. (I know I've said that about a number of workout locations.)

We've seen so much in the last four months that watching the video feels a little surreal. It almost feels as if I'm watching a dream. Maine, like I expected when we set off on our trip, has been one of my favorite states. This workout is probably one of my favorites as well because the moves in the complex flow into one another. It feels very natural and rhythmic.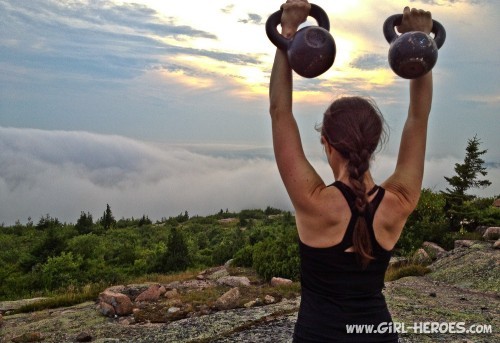 Double Kettlebell Workout – Maine
Part One – Double* Kettlebell Complex
A. Double Clean
B. Double Press
C. Double Squat
D. Double Row
E. Push Up
Repeat A-E 5x, 4x, 3x, 3x, 1x.  In other words, think of A-E as one rep and repeat 5x the first round and then rest. The second round do each exercise four times through and so on.
↑ (I'm sure there must be a better way to word all of that.)  ↑
Part Two 
Double Swings
30 seconds of swinging alternating with 30 seconds of rest for five minutes
*This double kettlebell workout could easily be turned into a single kettlebell workout. Just do one side of the body at a time for exercises A, B, D. Don't feel like you aren't getting as good as workout if you use a single kettlebell. In fact, it could be argued that single kettlebell workouts are more challenging than doubles because your body must work extra hard to stabilize your body against the imbalance of weight.
Okay, some things I noticed about my form that may help you.

Remember to "pull down" in your squat.  Use those hip flexors to pull your butt to the ground. When I do double kettlebell workouts, I sometimes just sit or drop down because I'm lazy they are twice the weight than I'm used to using as opposed to intentionally pulling myself into a squat. Also remember to keep those shoulders packed (shoulders blade down and back).  I still have to remind myself to pack my shoulders after more than three years of working with kettlebells.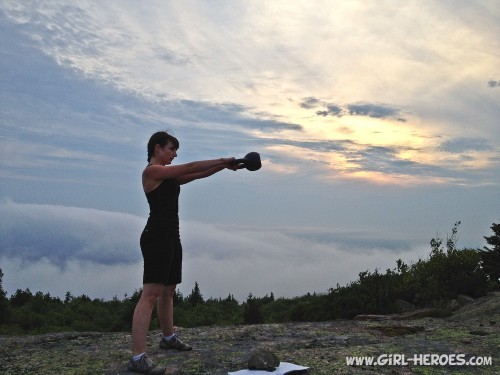 Again, I find double kettlebell workouts both easier and harder. They are obviously heavier which makes them harder in terms of exertion but the balanced weight feels more natural making exercises like cleans easier. Not to get all woo-woo on you but something about doing double kettlebell workouts in nature just makes me feel so balanced and connected.
What about you? Do you prefer single or double kettlebell workouts? Do you find one harder than the other?
Hugs and High Fives,
Jenn
Keep up with my kettlebell workouts, real food recipes, and more in one of three ways! 1. Sign up to have posts emailed to your inbox. 2. Subscribe to the RSS Feed or 3. "like" Girl Heroes on Facebook. Simple dimple!
Journey with our family on the road at New School Nomads as we travel fulltime in RV through the United States!
Pin It