Tennessee – Full Body Kettlebell Circuit Workout (and fun on the farm)
I was one of those horse girls growing up. You know the girls who played with Bryer horses instead of Barbies. Did anyone else have those? I used to write I <3 Knitpicker all over my Trapperkeeper. Knitpicker was my horse. My Trapperkeeper was an organizer. Do they still makes those?
Anyway ,we spent a week on a farm in Tennessee. It was wonderful and I felt right at home with the animals. It's one of my not-so-secret dreams to live on a small farm. The only problem is I love to travel and animals, particularly goats, and traveling don't fit well together. I supposed I could join a circus. Maybe I could complete feats of strength with my kettlebells while the boys do tricks with our pugs? Except I'm not that strong. And the pugs are lazy. Better scratch the circus. I guess living in an RV with 3 boys, 2 pugs, and a cat is the closest thing I'll ever get to a circus.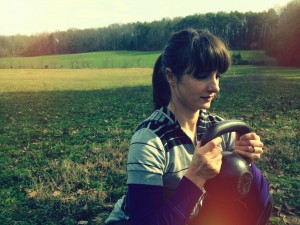 Anyway, while at the farm I did a kettlebell workout and hung out with some really great animals.  (The workout starts at 1:28 if you don't want to meet the animals.)
Tennessee – Full Body Kettlebell Circuit Workout*
Circuit #1
1a. Presses – 5 each side
1b. Alternating Reverse Lunges – 10
1c. Burpees – 1 minute
Repeat 3x
Circuit #2
2a. Rows – 10 each side
2b. Goblet Squats – 10
2c. Mountain Climbers – 1 minute
Repeat 3x
Circuit #3
3a. Upright Row – 10
3b. Single Stiff Led Deadlift – 10 each side
3c. Swings – 1 minute
Repeat 3x
Upright rows aren't normally part of my repertoire but I wanted to mix things up a little.
*I always do some mobility work for a warm up and try my best to finish with stretching and foam rolling.
We are currently in Florida and loving the warm weather. We are going to be here a few more weeks and I'm hoping to find some time to edit Alabama, Louisiana, and Mississippi. I loved the locations of all of them but especially Louisiana.
Hugs and High Fives,
Jenn
If you enjoyed this post you can follow one of three ways! 1. Subscribe to the RSS Feed 2. "like" Girl Heroes on Facebook, or 3. Sign up to have posts emailed to your inbox. Simple dimple!
Check out our family's adventures at New School Nomads as we take a year long RV road trip through the United States!
Pin It