Oscar Winner for Best Celebrity Arms
As I've gotten older I've grown less interested in celebrities and especially in celebrity bodies. Snore.  Confession. I didn't even know the Oscars were on last night until this morning. I must live in an RV without any TV under a rock. However, in keeping with tradition, here is the Girl Heroes Oscar Winners for Best Celebrity Arms.
And my favorite dress. Because that the only real reason to watch the Oscars.
This year it seemed that the red carpet was crawling with, more than usual, overly thin stars. I had a hard time finding arms that look like they could pick up anything heavier than an Oscar. Ouch.
The Winner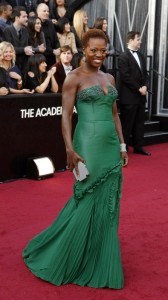 (Source)
Viola Davis – Admiteddly I've never heard of Viola Davis nor have I seen (or read) The Help.  While she may have lost best actress award to Meryle Streep she wins the Oscar for Best Celebrity Arms.
The Nominees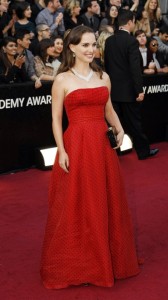 (Source)
Natalie Portman – Known for her waif-ish figure Natalie Portman looks to have put on some weight since filming Black Swan. In my opinion, this may be the best she has ever looked. It even looks like she may have some deltoid development.  Natalie also gets the most important, "Best Dress", award. Love. Love. LOVE that dress.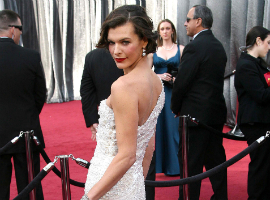 (source)
Milla Jovovich – She has been one of my favorite celebrities since I was a child and not only do I love her style she has a bit of muscle on those, yes, very lean arms.
Cameron Diaz – I think she has made the list every year and this year it was a toss up between her and Viola Davis. I thought it better to give someone else a chance because Cameron always has amazing arms.  Some say she's too muscular. Whatever. I think she and her arms are gorgeous.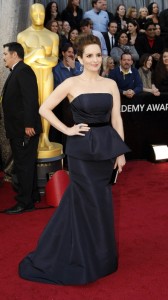 (Source)
Tina Fey – While not known, for roles requiring a buff bod, I think Tina was looking healthy and fit last night. She may not have the most ripped arms of the night but I'm willing to bet she was one of the funniest (and smartest) women in that room of satin, silk, and big egos.
Did you watch the Oscars last night? What did you think? Who would you pick for "Best Celebrity Arms"? "Best Dress"? Or do you watch them for the movies?
Hugs and High Fives,
Jenn
If you enjoyed this post you can follow one of three ways! 1. Subscribe to the RSS Feed 2. "like" Girl Heroes on Facebook, or 3. Sign up to have posts emailed to your inbox. Simple dimple!
Check out our family's adventures at New School Nomads as we take a year long RV road trip through the United States!
Pin It