Adventures in Food and Fitness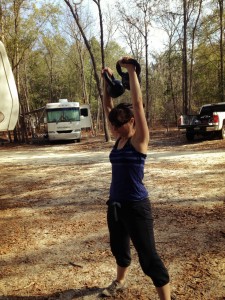 Hi guys! I hope you are doing well. I still haven't found the time to edit my last workout video so I thought I'd talk about my current workout and eating habits. Because that's exciting, right. 😉
In my last post, I mentioned that living on the road in and of itself is challenge enough and I don't need to add any more challenges to my life. I'm learning a entirely new way of life. I can't go to the same grocery stores week to week. I gave away a number of appliances I used to use. Unlike California, the weather is unpredictable making it tough to workout. The RV is small so cooking meals and working out inside is challenging but certainly not impossible. Before we set out, I thought I would have lots of free time but the reality is I have very little. We do school in the morning and then explore in the afternoon. Sometimes we explore all day and then do school in the evening. We've also driven almost 8000 miles since we left in late October and, due to motion sickness, I can't do much reading or writing during that time. Not to mention eating on driving days proves difficult with fast food always being a temptation. We've managed to eat very little fast food but I don't care if I ever eat another turkey sandwich again. All this to say that I've had a number of things to adapt to and it took me a little longer than I expected.
I hope I don't' sound like I'm complaining. These are all "challenges" I'm more than happy to take on because I'm living one of my dreams. Yes, living on the road is a challenge but it's also amazing. Amazing in the truest sense. But there are some facts to consider as I continue to learn and adapt to this new way of life.
Facts
Fact – I'm a sugar addict.
Fact – Sugar does nothing good for me. Not only is it related to a host of health problems it contributes to depression, a struggle of mine.
Fact – We are seeing hundreds of new places and trying the food is part of the experience. I don't want to miss out. (Ahem…beignets in New Orleans.)
Fact – It's important to me to support sustainable and healthful farming practices, i.e., grass fed meats, organic vegetables, local farms, ect.
Fact – I don't want to go back to Ventura in a year or two (we are already considering doing year two) having gained a lot of weight. Some is fine but not a lot. I don't have "skinny girl genes". I don't like the word skinny but you know what I mean. I have to be mindful of my food and exercise or I'll end up overweight. I don't want that.
Fact – I feel slightly self-conscious filming my videos. As you can see I'm NOT fat but I'm not as lean as I was. People can be really harsh and it makes me nervous especially on YouTube although I haven't had anyone say anything mean yet.
Fact – This is a biggie. I have my RCK re-certification coming up in a few months. This means I have to re-pass all the certification requirements including the snatch test. The snatch test is 100 snatches in 5 minutes with the 12k (26.5 lb) kettlebell if I weigh less than 124 pounds. Otherwise, I have to use the 16K (35 lb) kettlebell. Since giving away my scale I have no idea what I weigh. I know it's more than 124 but not sure by how much. (I don't *think* it's a lot) Which means I either have to lean out a bit or train to use the 16K but I have an injured shoulder right now. I don't think it would be wise to use that much weight on my shoulder especially doing the explosive ballistic movements like the snatch.
Fact – I like feeling strong. It lifts my spirits and makes me appreciate my body on a deeper level despite its "imperfections". Bottom line is being strong is good for me emotionally and physically and I'm not as strong as I was before we left.
My Solution
So considering all the "facts" of my life I have come up with a livable solution.
Food – We eat the majority of our meals at home so those meals will continue to be nourishing foods. I haven't and don't plan to buy any processed foods. I've been making an effort to get more local foods along the way and plan to keep doing. But I won't think any less of myself for shopping at Walmart and buying non-organics. In many of the smaller towns this is the only option. We are not planning our trip around food, we are planning it around adventure, education, and experience. This means that sometimes Walmart is our only option and when we are out in about I want to experience the food including beignets in New Orleans.
Which leads me too…
I'm not cutting out sugar completely. I started off the New Year planning to go back to the "no refined sugar" life style I lived for almost four years but realized that I would be too sad to miss out on beignets in New Orleans and Jeni's Spledid Ice Cream in Nashville. I'm not going to eat or cook with refined sugar at home but when we get to Key West in a few weeks I'm going to eat a slice of Key Lime Pie.
For the last four years living in my sticks and bricks house, I'd estimate 80-90% of my food has been nourishing and the other 10-20% would nachos or other junk foods. (Let's be honest, our bodies respond to most starches like they are sugar so it was more of a mental strategy than physical.) Allowing real sugar certainly makes it more challenging and the cravings afterwards are unbelievable. But I accept that is how my body will respond and I've been preparing myself mentally before I order that scoop of ice cream. I know if I eat it I will want more (and more and more) but just knowing and expecting this makes it easier to ride out the cravings however uncomfortable they are.  It also helps me to be selective about what I eat and ask myself, "Is this going to be worth the cravings that will follow?" It's not easy but, for now, it's worth it and doable.
Fitness – We've finally got to warm sunny weather (Florida) and my sprits have lifted. I think I may have a touch of Seasonal Affective Disorder. Working out should be easier now. Although time is still an issue but it's not an excuse. Brent and I started the Enter The Kettlebell
 program again. It consists of clean and press ladders 3 days a week using heavy, medium, and light days and two days of "kettlebell practice". It' simple, methodical, and effective plan for increasing strength. It also doesn't take much time and can be done inside the RV if necessary. I followed it to prepare for my RKC almost two years ago. I'm modifying the plan slightly by using double kettlebells and the other two days I'm going to practice TRX or full body metabolic kettlebell workouts to film for my state workout series.
I'm still a little torn regarding my upcoming RKC recertification. I'm leaning towards leaning out rather than risk greater injury to my already injured shoulder. I'm trying to do turkish get ups to strengthen my tweaked shoulder but I really don't see myself using a kettlebell heavier than the 12k for ballistic exercises soon enough to be able to pass. Which leaves me with the questions to buy a scale or not? I haven't minded not having one and now that I'm adapting to this new way of life I think my body will naturally get to where it needs to be. I think. It would be terrible to show up for my re-certification and not pass because I was, unknowingly, a few pounds heavier.
So that's that. Where I've been and where I'm at now. It feels good to have a flexible livable plan. I've already have 5 weeks of workouts planned, written out, and ready to check off. I found a nearby farmer's market and a farm that sells grassed meats that we will go to later this week. It's an adventure for sure and thanks for coming along!
Hugs and High Fives,
Jenn
If you enjoyed this post you can follow one of three ways! 1. Subscribe to the RSS Feed 2. "like" Girl Heroes on Facebook, or 3. Sign up to have posts emailed to your inbox. Simple dimple!
Check out our family's adventures at New School Nomads as we take a year long RV road trip through the United States!
Pin It