"Rough Drafts"
There have been many adjustments the last few months since we moved into an RV. The obvious being a small living space and the constant moving. What surprises me is those have been the easiest changes. I love having less stuff and less to clean. (I can't even tell you how freeing it feels.) I love waking up in different places throughout the week. Brent and I don't do much planning and I love not knowing where we are going to be week from week. That is just how we roll and we are loving it.
However, our free-spirited approach to our new lifestyle is affecting other areas of our life. Not necessarily in the best way.
I've always been a "loose" routine person. I've never been one to go to the gym every day at the same time and when I made meal plans they were always "rough drafts".  However, my life before looks OCD compared to my life now.
While living in an RV is living up to my expectations in many ways, (Really, sometimes I afraid I'm going to wake up and it's all going to be a dream.) there is one way, in particular, it is not. Before we left I imagined stopping at roadside markets and looking on Eat Wild and Local Harvest for places to buy food. In reality, it's not always convenient. We may or, more likely, may not be in a town the day of their farmer's market and, to be honest, I'd rather spend my time exploring funky towns instead searching for food.
I was spoiled in California. S-P-O-I-L-E-D. There were numerous CSAs, (I belonged to this one) food co–ops, a nearby farmer's market almost every day of the week, two Trader Joes within 2 miles from my house, a local health food store, and a Whole Foods (that I have never even been in but still) not far away. I had a freezer full of grassfed-yada-yada-yada beef and could buy fish right off a boat. While the price at the pump in California feels like getting hit in the stomach with a brick, fresh local affordable produce was always available. California is a foodie's dream.
We've been on the road living in an RV for two months and now I realize that it's not as easy to eat healthy all over the country. Not impossible but certainly not as easy. In the big cities, it's easier to find healthy food. I drove by the Whole Foods Mecca Flagship store in Austin and almost confused it for an airport terminal. Later in a smaller town, I found myself next to tears (Boohoo.) while I stood in the bread aisle for nearly 15 minutes searching for something suitable. A few days later, we were in a really small beautiful town where there was only one modest grocery. The produce aisle was a sad little section of fruit and vegetables. No wonder people are buying processed and boxed food. The pictures on the packaging looked really appealing compared to the wilted lettuce and bruised apples.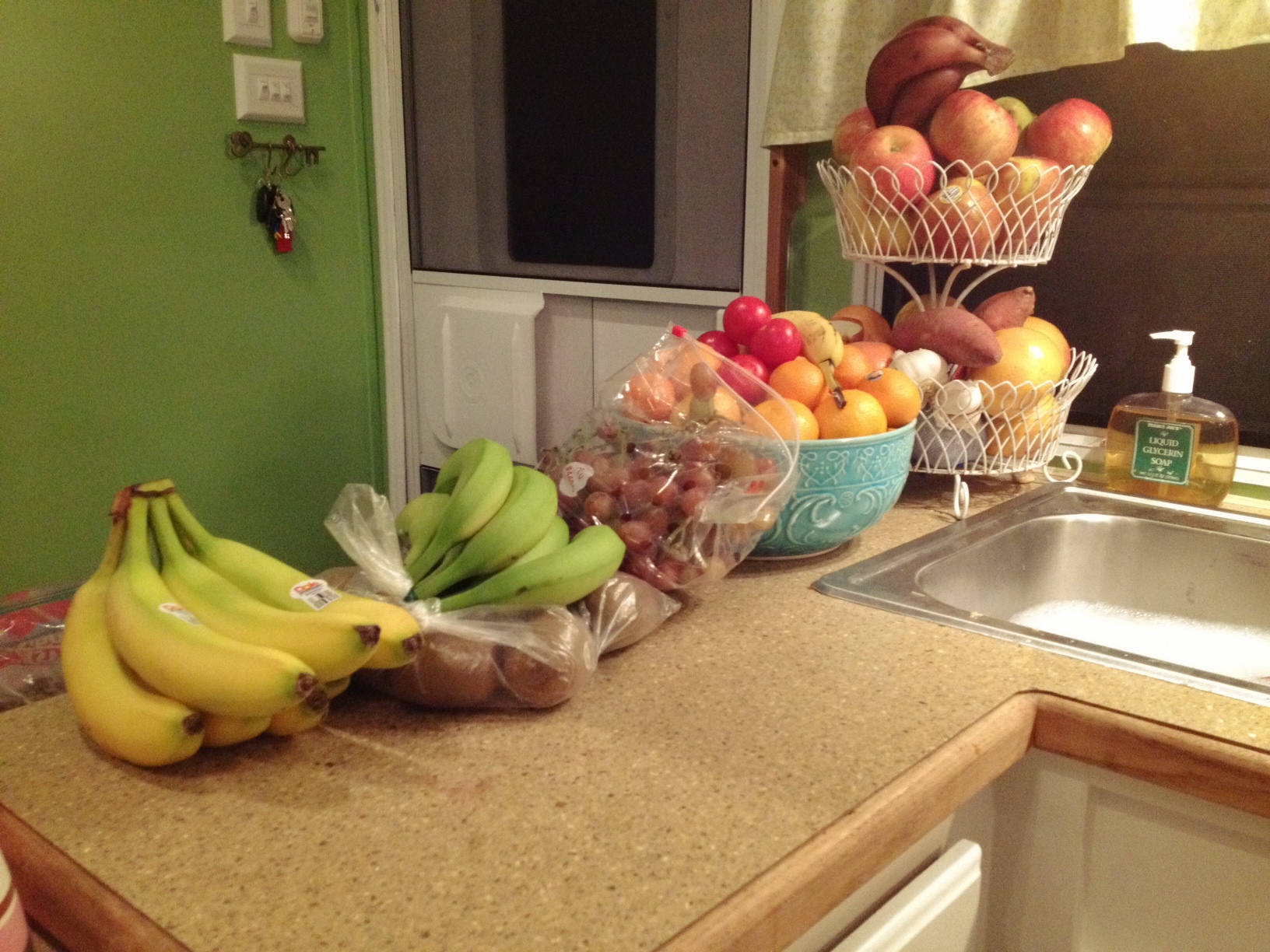 (This lot was from one of the better grocery stores and it takes up my entire counter.)
Add the lack of availability with a super small kitchen, fewer appliances, very little routine, lots hours in the car, and so many wonderful distractions like National Parks, friends, and mountain biking, it's a wonder we are not living off of microwave dinners
But the thing we are adaptable creatures. Our ability to adapt is rather astounding. Every day I find myself forgetting I even live in an RV on the road. I don't need a huge fancy 10,000 horse power "blender", (I never had one but a girl can dream.), a CSA, and I'm certain I can cook up a decent meal even with droopy broccoli if I make the effort. I may not always be able to have my organic-grass-fed-blessed-by-the-Pope-beef but I can still do my best to make a plan.  Even if it's just a rough draft.
Hugs and High Fives,
Jenn
Check out our family's adventures at New School Nomads as we plan to take a year long road trip through the United States!
If you enjoyed this post you can follow one of three ways! 1. Subscribe to the RSS Feed 2. "like" on Facebook, or 3. Sign up to have posts emailed to your inbox. Simple dimple!
Pin It