"Arkansas" Full Body (Tabata) Kettlebell Workout
Good thing my locations are change each week because my outfits don't. I could only bring so many clothes with me in the RV.

I want to say right off hand that I call these Tabata intervals but since there are 4 of them I didn't go all out each set so they aren't true Tabata. Nevertheless this workout kicked my butt and I felt it for days. Days.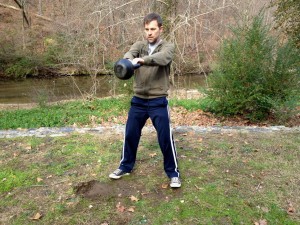 Despite the chilly weather, this was a great place to workout. The campground was nearly empty, the sound of the stream was relaxing, and my kids played on the hillside. After we filmed my workout Brent did the workout himself.
Arkansas
Interval #1
1. Push Press
2. Jump Squats
Interval #2
1. KB Toss
2.  Swings
Interval #3
1. Hot Potatoes
2. Split Lunges
Interval #4
1. Mountain Climbers
2. Russian Twist
– Each interval is 4 minutes long divided into 20 seconds of work and 10 seconds of rest which means each exercise is repeated 4 times (8 total work periods). All four intervals add up to a 16 minutes workout. I'm a math genius. 😉 
– For the interval #1 I started with my left arm push presses and the second interval (after squats) I switched to my right arm so each side did 2 intervals each. This was plenty of work. I had considered making it double push presses but halfway through I was glad I stuck with singles.\
We were in Arkansas in December and have finally made it to warmer weather. I'm hoping this will help me get back into a workout routine as they have been…errrr…a bit spotty. That New Year's 5X5 Challenge? Out the door. I should have made it a 3×3 challenge or skipped it altogether. At this point, I don't need any more "challenges" in my life. Figuring out life in an RV with two kids, two dogs, and a cat is challenge enough right now.
Hugs and High Fives,
Jenn
If you enjoyed this post you can follow one of three ways! 1. Subscribe to the RSS Feed 2. "like" Girl Heroes on Facebook, or 3. Sign up to have posts emailed to your inbox. Simple dimple!
Check out our family's adventures at New School Nomads as we take a year long RV road trip through the United States!
Pin It