Sole Mates – The New Balance Minimus Trail Review and Giveaway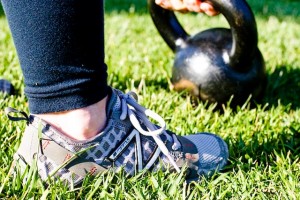 If you have read my blog for any length of time you know that I love to workout barefoot.   Not only is it the safest way to lift kettlebells, I love the feeling of my toes digging into the grassy earth.  When it's warm.  When it's dry. When it's clean.
Since the ground is not always warm, dry and clean, I face a dilemma.
Do I wear traditional cushy shoes and risk injury a due to an unstable surface?  Or do I deal with the mud, splinters, rocks, and cold among other scary things?
Not to mention that most gyms won't allow the patrons or instructors to go barefoot.
A double dilemma.
Until now.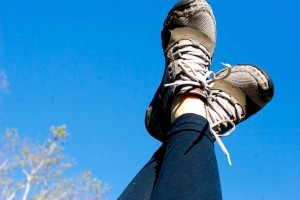 Love.
Yes. LOVE.
The moment I opened the box it was love at first sight.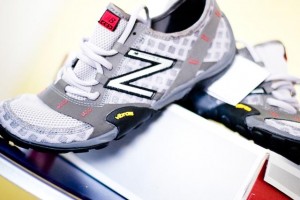 I've never been a big fan of the "tennis shoe" look and the New Balance Minimus defies the word "sneakers".  They are funky, functional, and cool with a personality of their own.
But how do they perform?
Keep in mind, my primary purpose of these shoes is strength training with kettlebells.  While I do spend a fair amount of time on the trails around my town, I was really looking for something that I could  wear while lifting and running because the majority of my workouts include a variety of movements like swings, sprints, and straight lifts.
Let's have a closer look.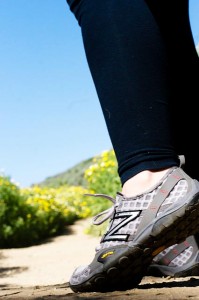 The New Balance Minimus Traili shoes are designed to be worn barefoot.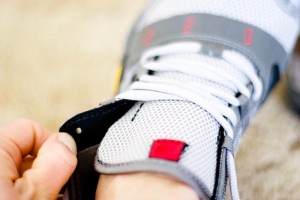 The first thing I noticed was the tongue, it attaches almost seamlessly to the inside of the shoe eliminating any extra rub to the top of the foot and well as reducing "adjustments".  The interior lining is super duper comfortable and the mesh design allows your feet to breath while keeping out rocks and other small debris.  A win-win!  Of course, if you want to wear socks you can and you can wear normal socks as opposed to the "toe socks" necessary for some other barefoot-style footwear, which could be a major plus for some.
The soles are flexible (they could be easily folded in half) made out of Minimal Vibram outsole with a hexagonal pattern on the bottom.  The entire shoe weighs only 5.5 ounces.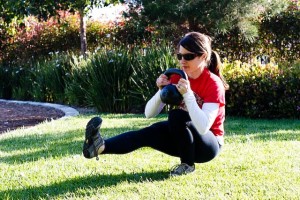 The sole is thin enough to still feel the ground to "dig in" or "root" my energy for maximum tension which equals greater strength.  I also didn't experience a noticeable difference in my body alignment or balance from the 4 mm heel drop even during a long set of hardstyle type swings.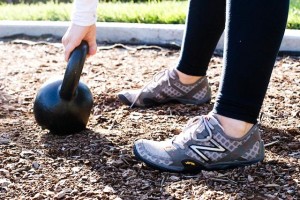 As a personal trainer, one of the problems I face is trying to convince clients to train with kettlebells (and other weights) barefoot or in flat thin soled shoes.  Most have spent their lives training in the thick raised soles of cushy tennis shoes.  Some will agree to a more flat soled shoe, like the classic Converse but understandably don't like to do any running drills in the more stiff soled shoes. However, the New Balance Minimus was designed for running and they work for kettlebells (or other strength training) remarkably well.  Another win-win.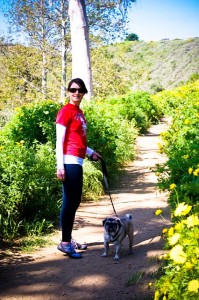 Along with my kettlebell workouts, I also hit the trail regularly for some hiking or running.  I've been contemplating barefoot running for a few years but until now I hadn't had the nerve to try.  Honestly, I'm just not really that keen on hitting trails totally barefoot.  Rocks hurt and dog poo is gross.  As much as I want to be "closer with the ground" I don't want to spend the entire time worrying about what I may step on or in.  The New Balance Trail is the perfect solution for me.  My feet were protected but I still had a "near barefoot" experience.
Barefoot running requires that a person adjust their gate from a heel strike to a more mid-foot strike. Since barefoot running is new for me, I like having a bit of heel cushion for those strides I accidentally strike heel first. While I can't speak for long time hardcore barefoot runners, I do think these shoes are ideal for transitional runners like me.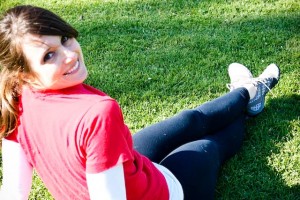 If I haven't made it clear, I absolutely loved these shoes.  Truly.  I couldn't have been more excited when New Balance contacted me about a review as I have been a long time New Balance fan and I was equally excited to review a product that fit my needs so perfectly.
And…
I couldn't be more thrilled that New Balance has offered a pair of Minimus Trail shoes to one lucky reader!!!!
Mandatory Entry…
Check out the New Balance site (it's full of great information!) and leave a comment telling me something you learned or mention a pair of shoes you liked!!
For up to 4 additional entries (5 total) you may do any of the following and leave a separate comment for each entry.  (Comments are numbered and the random number generator picks a number so more comments = more chances to to win.)

1. Tweet about this giveaway and mention @NewBalance and @girlhero.  Here is a shortened link you can copy and use http://bit.ly/l3VW2R.
2. Become a fan of New Balance on Facebook and leave comment telling me you did so. (If you  have already "liked" it you can leave a comment.)
3. Become a fan of the new Girl Heroes page on Facebook and leave a comment telling me you did so.  (If you  have already "liked" it you can leave a comment.)
4. Blog about this giveaway and leave a comment with the link to your post.
Open to US residents only.  Contest ends May 5th, 2011 at 9 p.m. PST.  Winner will be randomly selected and has 48 hours to get back to me by email or a new winner will be randomly selected.
Good luck!!!
Hugs and High Fives,
Jenn
Disclosure: I was provided a pair of New Balance Minimus shoes for the purpose of this review.  All opinions are my own.
If you enjoyed this post please Subscribe to the RSS Feed.
or
Sign up to have posts emailed to your inbox.
Pin It