Roadtrip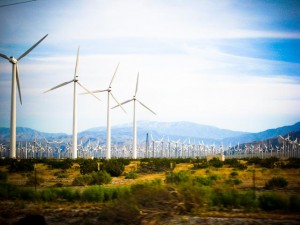 Don't tell anyone but I can be a little obsessive and what some might call a tad bit obnoxious.
For instance, packing for our road trip across the desert to Arizona on Friday I insisted that we take all our veggies (including wilted dandelion greens) from the CSA despite knowing full well we wouldn't eat them.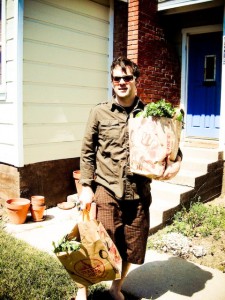 Not only is our car stuffed with veggies we won't eat.
Meow Cow HAS. TO. COME.  After a 30 minute yowling ritual….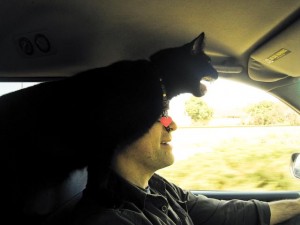 …he finds the best seat in the house.
Daddy's Lap.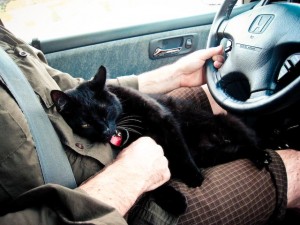 Or on our sweet entertainment system.
(Our laptop strapped onto a folding stool/cooler.  Like I said, SWEET.)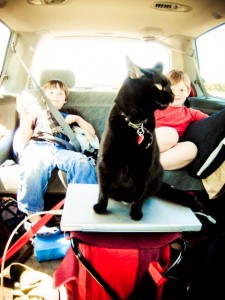 Yeah we're "those kind" of people.
It wasn't just the cat and the veggies.  Thursday, I started the 10,ooo swings challenge.   I'm hoping it will help lift my butt prepare my hands for the RKC certification in August and I felt like I needed a mini goal to keep me motivated.  My plan, to get all the 10K swings done, is to do 400 for 25 out of the 30 days.   So the kettlebells came with the veggies and the cat.  Not only were they packed but they were swung.  I got in 150 swings before leaving.
Then….
50 more when we stopped at Elle Pollo Loco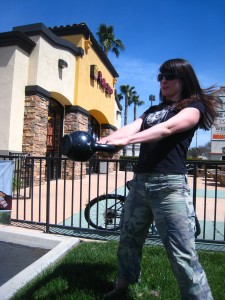 60 more in the In-N-Out Parking lot looking hot and not at all like a freak in front of my van.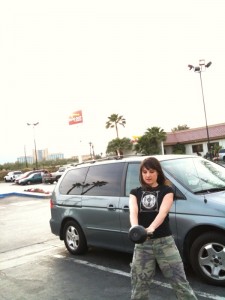 .
It was a road trip. Don't judge b/c I had CSA veggies packed…remember?  😉
50 more in front of the random tank display at sunset at Chiriaco Summit where we stopped to get gas.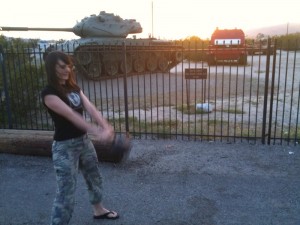 I was going to finish the last 90 swings when we got to Phoenix but because of the traffic in LA we were two hours later than expected.
I also thought my self-professed "quirkiness" might be wearing thin in the eyes of my photographer husband.  So I made a judgement call and decided to finish up my swings on Saturday without pictures.
Hugs and High Fives,
Jenn
If you enjoyed this this post please Subscribe to the RSS Feed.
Sign up for up to have posts emailed to your inbox.
Pin It