Mojave Madness
I love starting a roadtrip while it's still dark.  There is nothing quite like watching the sunrise welcome a new day of adventure.
Saturday morning, Brent and I, alone, took off for Vegas with a change of clothes, two cups of coffee, beef jerky, bananas, and some sparring gear.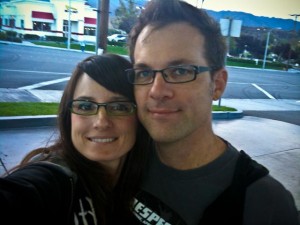 We decided to take the road less traveled, small highways, through the Mojave Desert.
It had recently rained and the clouds were still heavy ready to kiss the ground again.  There is nothing quite like the smell of the desert after a rain.  Fresh baked cookies can't even compare.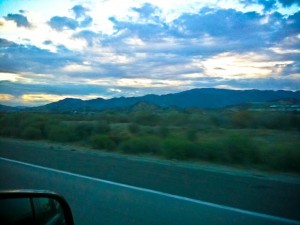 Then there are the whimsical Joshua Trees, unique and proud in the morning light.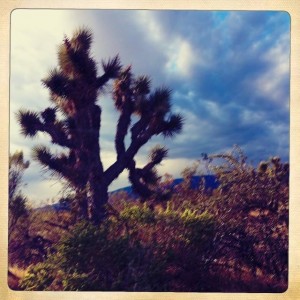 A few hours later, we found ourselves in a casino off the strip.  Waaay off the strip.  Its ring ding zings and flashy lights are the polar opposite of the stark beauty and quiet of the desert.
Like Clark Kent, I went into the bathroom telephone booth one person and emerged another.  SuperNervousGirl.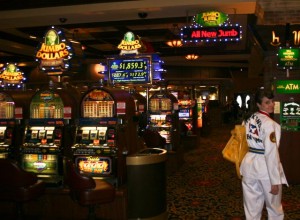 There were 8 girls in my ring.  During forms my mind must has still been in the desert as I forgot an entire section.
I started off slow in sparring.  I always do because I don't like to hit first…or get hit first.  It's quite a conundrum.
The score was 3 (me) to 4 (her).  One more point she wins.  Two more points I win.  That moment, I decide I'm going to aim for the head.  The head is 2 points.  Round kick.  It hit.  Not hard.  I turn to see my instructor's smile.  I want to make her proud.  But my favorite part?  Hearing Brent's cheers.  He's a quiet guy so when I can hear his voice my day is made.  I finish my matches, his cheers still playing in my head.  Third in forms.  First is sparring.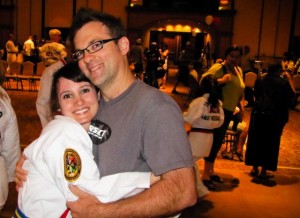 Competing is fun but not as fun as hanging out with friends.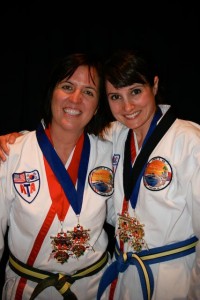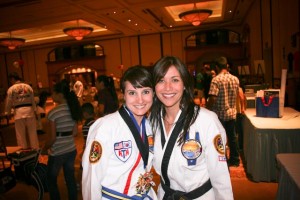 That night we stay with friends and go see a murder mystery at dinner theater off the strip.  It's a bit saltier down there but, like a kid, I love the lights.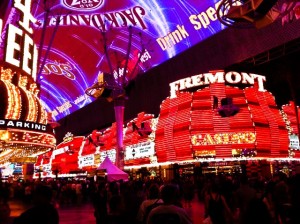 Morning.  Starbucks.  The road.
Breakfast at The Mad Greek.
Love the absurdity of our big yet small crazy world.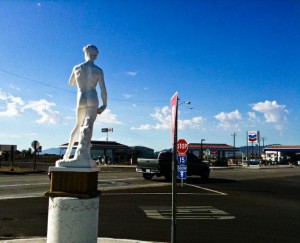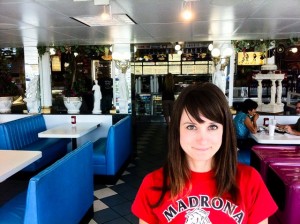 It's been 13 years since I've stopped here with my gram and gramps.  The place hasn't changed.  I am happy.
How could I not be with my love…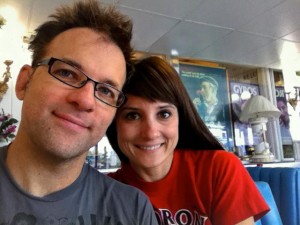 …and gyro omelettes…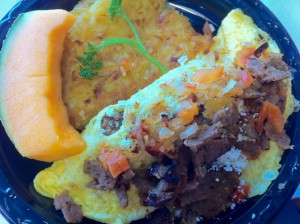 …and faux marble statues surrounded by bright blue vinyl.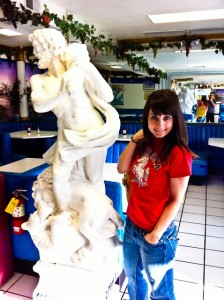 My very own hero and handsome warrior.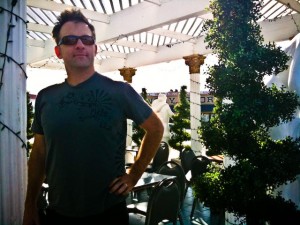 We continue on through the Mojave until our tummies signal us to stop.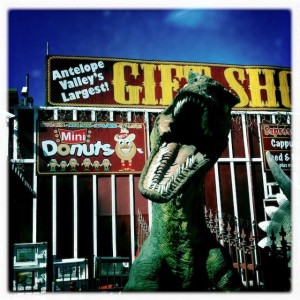 Not for mini donuts. For him, a date shake. For me, these.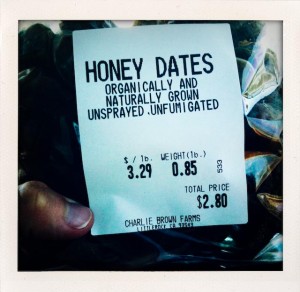 Another gift of the desert.
The trip was quick but fun and, in a weird way, romantic.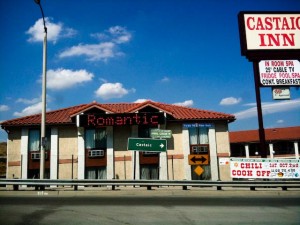 Seriously?
Who stays here?  Right next to the freeway?
We nearly got rear ended died with laughter trying to get this picture.
I prefer the desert.
Even a mad dash and back trip through the desert.
Hugs and High Fives,
Jenn
If you enjoyed this post please Subscribe to the RSS Feed.
Sign up to have posts emailed to your inbox
Pin It