Here it it is….
My amazing, super professional, daily don't-eat-a-jar-of-peanut-butter star chart.  Make sure you click on it so you don't miss the fine details of this artistic wonder.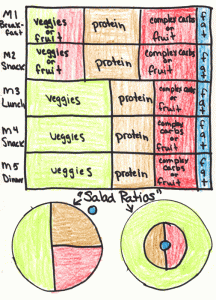 Actually yesterday I was working on making a nice one on the computer when after an HOUR AND A HALF I hit the wrong button and "poof" then entire thing disappeared.  Unfortunately I think fat loss does the opposite.  You can work your butt off for months and then one week your press the wrong buttons and "poof" the fat magically just reappears.  I thought for a moment about grabbing a hammer to teach my computer a lesson.  Then decided to just cry.  After a short cry I went on a trail run with my hubby and decided my chart could wait a day.  After all pizza sounded pretty good.
Anyhoo these are the ratios of how I would ideally like to eat on a day-to-day-I-can-live-like-this basis. Here are some explanations.
Each serving is a palm sized portion.  EXCEPT veggies and fat.  Veggies are unlimited assuming they are not soaked in butter.  In fact, I think people should super-size their veggie portions.  Fat are smaller portions. For my breakfast it's an egg yolk.  Lunch it may be some nuts and a little bit of oil on my salad.  Dinner is flax or olive oil based dressing and a little feta. It's NOT 3 tablespoons of peanut butter.  
M1 and M2 – I don't like to eat veggies in the morning unless it's in an omelette and normally I don't have the time to  make an omelette.  That is why my first meal offers me a choice of fruit or veggies. 
M3 – M5 – I know the squares for protein and complex carbs look smaller than the breakfast and snack square.  They are ratios.  The portions are still palm-sized.  I just want to remind myself to load up on veggies.  Not because I like them but because they are good for me.  If I follow this plan, I eat at least 6 servings of veggies and up to 12.  Often I'll steam artichokes (the ONLY veggies I love) and have a big salad with chicken or fish.
What about M6!!!  Isn't it five to SIX meals a day?????  – You even more obsessive than me!!  I don't tend to want 6 meals a day but if you do GO FOR IT!!!  Just don't make it chili-cheese fries.
Dairy!!!  Where is your dairy???  Don't you know your are going to get osteoporosis???  –  Depends. I count cheese as a fat.  If I'm making fish tacos and want some cheese then I'll have SOME cheese.  Greek yogurt and cottage cheese I count as proteins.  Personally I don't drink much milk because I can't stand drinking calories but if I do I'd just make all my portions a tad smaller than usual because milk has all three macros providing your not drinking skim milk.  
Complex carbs are just that complex. They don't break down as quickly as refined carbs and therefore don't trigger or body to store fat unless you are eating an entire loaf of bread, even Ezekiel bread.
During the week I try to follow this for most of of my meals but allow myself two or three sane meals or a sane day where I disassociate and slurp, crunch, and devour (almost) everything in my path.
Remember there are many routes to the same destination.  This is a rough guideline that works for me WHEN I FOLLOW it.  Lately I've just gotten off course too many times and I'm a little sick of doing circles. I'm planning on making some nice charts on the computer.  When I do that I'll make a few different routes to choose from in case this one doesn't get you where you want to go.  I also want to make a weekly chart.  I think I like making charts almost as much as I like making lists.
Have a great weekend!
xoxo
j
Pin It