Back to the Land of Blogging!
Last week, I set some "vacation  goals". The main goals were to "relax, read, foam roll, and sleep".  What I didn't want to do was to make the vacation all about food and come home  almost 10 lbs heavier.  Been there done that and it has never been worth it.  I'm happy to report back that I didn't come back any heavier.  In fact, the scale was half a pound lighter but we all know it doesn't mean much.  It could be up or down a pound or two tomorrow.  The scale is crazy and I know enough to not play it's games.  It is nothing more than a tool and I'm pleased to see it stayed consistent despite some extra vacation pizza and pasta.
Moving on…
I managed to get in some reading and foam rolling.  Not every night like planned but more than usual.
Unfortunately, I didn't get as much sleep as I would have liked.  If I had to admit my biggest "health" struggle…THIS. WOULD. BE. IT.  Finally, by the end of the vacation I was forcing myself to get off the computer go to bed and I felt…
WONDERFUL!!!
Amazing what a good's night sleep can do!!!  I felt like I could leap tall buildings in a single bound or…
…swing some kettlebells.
Last week, I got in exactly two workouts, one by the pool at night (Oh how I love kettlebells) and another with Brent in the lawn next to our condo.
Jenn and Brent's Vacation Workout
It was a 5 rung descending ladder made up of 4 exercises.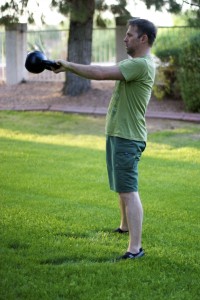 2. Military Presses 5, 4, 3, 2, 1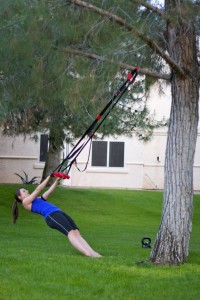 3. Suspension Trainer Rows 25, 20, 15, 10, 5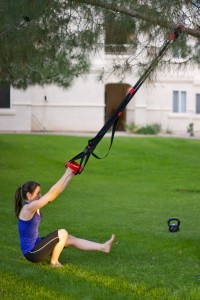 4. Suspension Trainer Assisted Pistol Squat 5, 4, 3, 2, 1 (each side)
The first time we went through the workout we  did 50 swings, 5 military presses each side, 25 rows on the suspension trainer, and 5 assisted pistol squats each side.  Then we "descended" or "stepped" down the number of reps each round.  The entire workout was less than 20 minutes including warm up.  My kind of workout.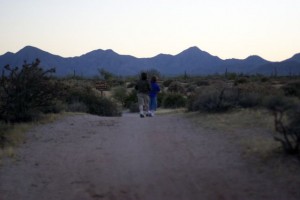 Other than resting and relaxing we also played tennis, went on a short hike through the desert at dusk, visited the Chinese Cultural Center, saw Body Worlds (AMAZING!), I competed in another taekwondo tournament (more on that later) and…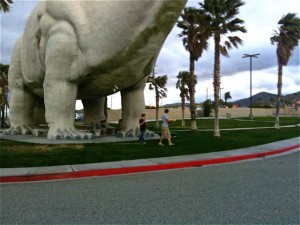 …hunted for Easter eggs under the belly of a Brontosaurus at Cabazon.  It was freezing and the people, all of two who were running for their cars after visiting the gift shop, must of thought we were crazy.  They're right.
This wasn't our first time getting some "looks" at the dinosaurs.
Before I force myself to go to bed, I wanted to remind you that I'm one of the bloggers reviewing Olay Total Effects Dark Circle and Line Minimizing Brush where you can enter to win a $100 Spa Finder gift Card.  A quick comment gets you an entry!
Oh yeah…..
Last but not least, my webslave web designer built me a new site!!  I wanted something a little more "girly".  Ya know to balance out my more beastly habits.  😉  I even have a brand new Facebook page to go along with it!
Can I tell you a secret?  For the last 3 years of blogging, I was afraid to have a Facebook page.  Ridiculous, I know.  I was afraid people wouldn't "like" it and I'd get sad.  Finally, I decided I needed to get over my insecurities and just make one.  So here it is if you'd like to follow along that way and if not that's ok too!  I'm grateful for every reader whether it's 1 or 1000!
Hugs and High Fives,
Jenn
If you enjoyed this post please Subscribe to the RSS Feed.
or
Sign up to have posts emailed to your inbox
Pin It