The Lovable Rogue's Guide to Building a Home Gym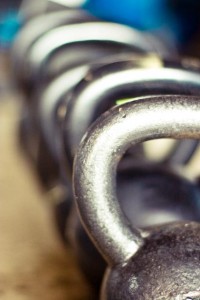 Two years ago, I went rogue.  I quit the gym.  Now I work out at home in my garage.  With the spiders.
And I love it.
7 Things to Consider When Building a Home or Garage Gym
1. Space – The amount of space you have will determine the type of equipement you can use to build your home gym.  Don't let a small space get in the way of your home fitness goals.  There are plenty of options that don't take up much room.  In fact, some of the best fitness tools (kettlebells…ahem) hardly take up any space at all.  Bands, adjustable dumbbells, suspension systems, pull up bars, and medicine balls don't require a large area.
2. Others – Don't let your "me time" turn into "ME time".  So you decided to turn that extra room  into a home gym but maybe putting the treadmill on the other side of the master bedroom wall wasn't such a great idea.  Your early morning runs on the treadmill are now turning your sleeping beauty of a husband into Hank the Crank.  Or maybe your once friendly neighbors are giving you dirty looks because they don't like the sound of clanging plates and Metallica blasting out of the garage at 6 am.
3. Climate – You can't give up your morning runs but you can't live with Hank the Crank either so you decide to move your treadmill into the basement. Unfortunately you forgot not only does your basement feel like the Artic in the dead of  winter but it floods in the springtime.  For some, working out is already a discomfort. Don't make it more uncomfortable by building a home gym in the old barn behind your house if you live inTexas and hate humidity.  That said, I've known people who put on gloves and jackets to workout in their unheated basements or garages in the middle of a midwestern winter.  (Those are the same kind of people who move to the desert because it's "dry heat".)  If you live in a more temperate climate you'll be able to use mother nature as a regular part of your routine and may not need machines like a gigantic hamster wheel treadmill.  Consider what you consistently can (or will) and cannot  (will not) do or tolerate climate wise.
4. Budget – Now you know where  you are going to put your gym but what can you afford?  If the sky is the limit enjoy your 360º views while using your shiny new commercial grade equipment.  For the rest of us on a budget, I have two words.  Craigslist.  Wait.  That's one word.  When I building my home gym I got everything, aside from my kettlebells, from Craigslist at a fraction of the price of retail.  I even got some dumbbells off of a local Freecycle group and my husband built us a pull up bar for less than $10 with a galvanized steel pipe and a 2×4.
5. Knowledge – You can afford it (or make it) but can you use it?  Sure Olympic bars are bad azz but can you use it effectively without sending yourself to the chiropracter or worse?  If your fitness newbie it's probably best to stick with bands, dumbbells, and basic barbell moves.  Or better yet, hire a personal trainer to teach you how to get the most out of your home gym.
6. Frequency – Is this going to be your main gym or is this a "back up gym" reserved for nights you "can't make it to the gym".  If it's a back up gym one or two pieces of equipment should be plenty.  In fact, maybe you should consider saving some money and using a bodyweight workout as a back up plan.
7. Motivation – The most important question of all, will you use your home or garage gym? If not, it's…say it with me…worthless.  For some people, a gym membership provides motivation and community.   Those two things alone may make a gym membership worth the cost and worth wiping up other people's sweat.
Now for a brief tour of my garage gym.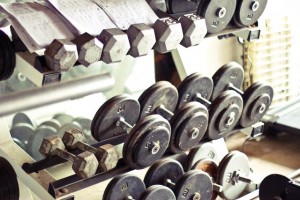 Dumbbells and barbells (on the floor in front of them).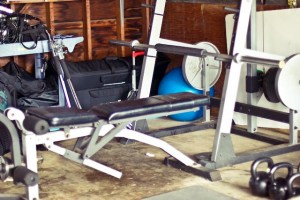 Squat rack, olympics bar, and bench with a lat pulldown bar that you can't see in the picture. This has become my least used piece of equipement unless you count using the bench to step up to my …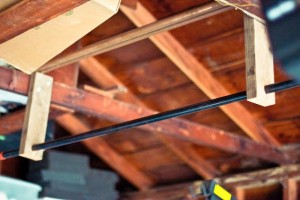 …pull up bar.  Love it.  It's so sturdy a gorilla could swing from it.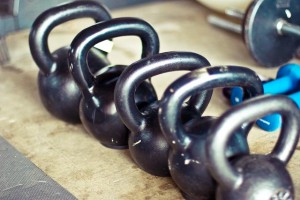 "Wonder"bells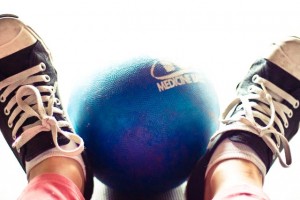 10 lb medicine ball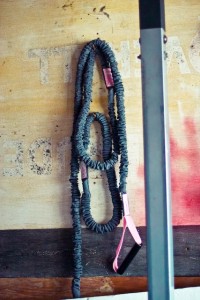 ..and bands.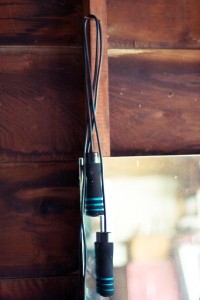 Jump Rope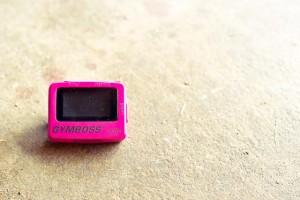 Gymboss (for intervals and tabata training)
Hamster Wheel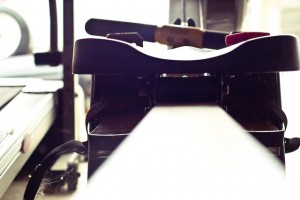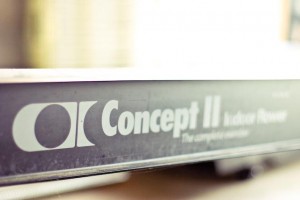 Rower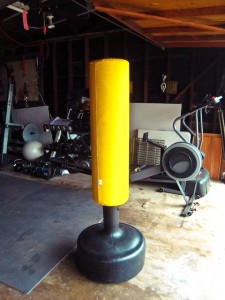 Kicking Bag (I LOVE this thing and would recommend one over a treadmill.  Way less expensive and a killer cardio workout.)
And because I'm soo HARD CORE….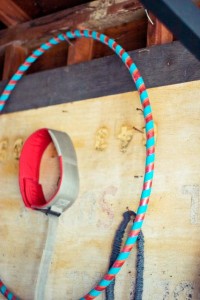 …a hula hoop.
What about you?  Where do you workout?  Do you have any tips or other things to consider when building a home or garage gym that you could share?  How do you feel about spiders?
Hugs and High Fives,
Jenn
If you enjoyed this post please Subscribe to the RSS Feed.
or
Sign up to have posts emailed to your inbox.
Pin It