My First Giveaway!!!!! Oxygenfit Body Plan Kit
Yes, I received my bands and ball for free.  That doesn't keep me from being honest.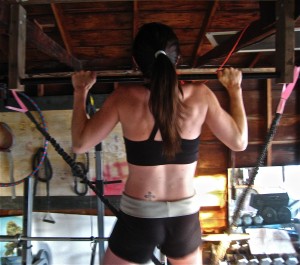 Using my Oxygenfit toner in my fancy garage gym to aid my pull-ups.
While I don't use exercise bands regularly (except for the above exercise which is my favorite way to work up to pull ups) they are perfect for those with a limited budget, space, or for traveling. Bands are affordable, light, portable, small, versatile, and convenient.  You can easily throw them in a carry-on suitcase and eliminate one of the excuse factors when traveling.
After a bad experience with cheap bands (One broke and the handle hit me in the face bloodying my nose…yes it hurt like heck!) I was delighted when I saw  and experienced the the quality of the Oxygenfit Toners (bands).  What sets the Oxygen Toners apart from other bands?  Attention to detail and quality construction.  The plastic tubing is attached inside a nylon sleeve and the sleeve is securely attached to the handle.  There is also an optional attachment called the Fit Stik that allows you to add more variety and use the Toners more like a barbell.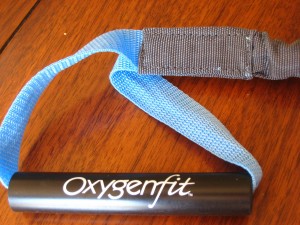 The square part is heavily stitched for safety.  I can't imagine this breaking!
The Oxygenfit Toners feel safer and more comfortable (no pinching) than an average exercise band.  As long as you aren't using the band as a swing or for acrobatics then the possibility of the band breaking is virtually eliminated.
The ball?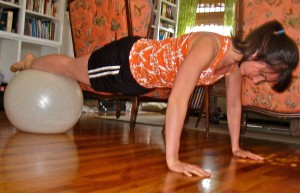 I've always bought cheap balls from discount stores and inevitably it felt like I was doing planks on a balloon rather than a stability ball as the plastic felt thin. However, the Oxygenfit Body Ball is akin to the higher quality balls I've used at the gym.  Although, mine could have used a few more pumps of air.  Speaking of the the air pump it was really easy to use.  It took me 2 minutes and 37 seconds to fill up with air.  Yes, I actually time it with a stop watch and, yes, I'm easily entertained.
While I don't use a stability ball every day (I don't use any one piece of equipment every day), I do use them to add variety to my workouts and prevent boredom.   I consider it one of the better pieces of exercise equipment when it comes to price, effectiveness, and versatility.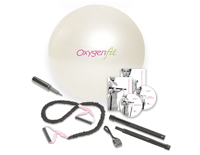 The friendly people of Oxygenfit have offered to giveaway a Body Plan Kit (worth $94.95) to one lucky Girl Heroes reader.  The kit will contain 1 Body Ball, 1 Light Toner, 1 Fit Stick, 1 door anchor, 1 Air Stik Pump, Motivational DVD, Fit Stik DVD, and Gym Technik Mobile Application.
4 Ways to Gain Entries!
(Please make sure you leave a separate comment for each entry as I will pick a winner at random from the comments.  1 comment = 1 entry)
1. Leave a comment telling me what your favorite exercise is using the ball or bands?  If you've yet to use them what would you like to try?
2. Check out the Oxygenfit website and leave a comment telling me you have done so.  (There's a short little video that gives you an idea of all the different ways you can use the Body Ball, Toners, and Fit Stick.
3. Mention this post on your blog.  Leave a comment telling me you have done so.  If you don't have a blog you can email this post to a friend and leave a comment telling me you have done so.  You may mention this giveaway in multiple posts (or emails) up to once per day but remember to leave a comment for each entry.
4. If you have a twitter account please help me spread the word and Tweet about this giveway. "@girlhero is having her first giveaway: An Oxygenfit Body Plan Kit. Enter to win here http://bit.ly/dhskF9!"  You may tweet up to once a day but don't forget to come back and leave a comment for each entry.
Contest will close next Monday March 29th at 9 pm PST and is open to US and Canadian residents!
Hugs and High Fives,
Jenn
If you enjoyed this this post please Subscribe to the RSS Feed.
Sign up for up to have posts emailed to your inbox.
Pin It