So very good.
The tide has come in and I've been stuck in the sand.  The current pulls me out to sea.  Grains of sand slip through my fingers as I try to grasp hold . Useless.  So I wait because the tide aways returns me to solid ground.
I look up from my  lonely place and see light.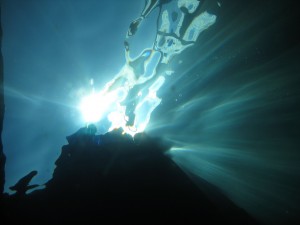 (Source)
Hope.
Beauty.
A world outside myself.
It's been a long rough week.  I'll spare you the all-to-common details of the effects of a crappy economy, unwelcomed surprises, insecurities, and my baggage covered in cobwebs.
I'll just say I'm thankful.
Thankful for cool breezes.
Thankful for Meow Cow's purr.
Thankful for the strong arms of my husband.
Thankful for tangy glasses of kombucha.
Thankful for children.
Thankful for you.
Yes, life is good.  So very good even when it doesn't feel it.
(I'm not a teenager in angst.  Really I'm not.)
Have a beautiful weekend.
Hugs and High Fives,
Jenn
If you enjoyed this post please Subscribe to the RSS Feed.
or
Sign up to have posts emailed to your inbox.
Pin It