Lazy Crazy Cat Lady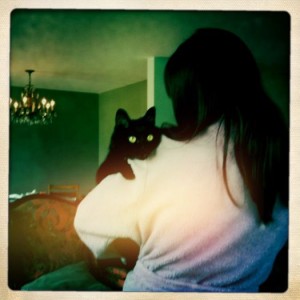 This weekend I spent my first weekend alone in my house EVER.  We won't talk about how old I am and how SCARED I was.  Nor will we talk about how I refused to let anyone on Facebook know I was home alone for fear that I might be friends with a closet creeper.  Ya, never know.
Instead, we'll talk about how much better Brent and the boys make my life.  Not only did Brent help turn this psycho into a princess his presence also makes me take showers, eat a variety of food, and shut cabinet doors.
So Friday night, Brent and the boys left for a Cub Scout campout.  I decided to stay home so I could sit around all day catch up of some stuff and avoid sleeping on the ground.  After they left Friday night, I went sparring class.  Speaking of sparring, check out the bruise I still have from the tournament.  Thanks MMA Mama.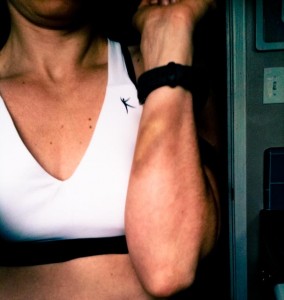 After sparring class  I decided to get fancy in the kitchen and warmed up a microwave dinner.
Trader Joe's Paneer Tikka Masala.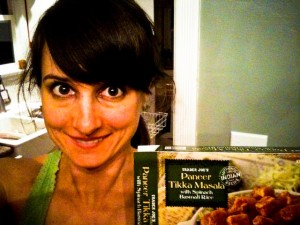 The next morning I got up and did my workout.  I FINISHED my second time through Enter The Kettlebell! Strength Secret of The Soviet Supermen
(b/c I so want to be a Soviet Superman) by doing clean and press ladders  5X5 with the 12K (26lb) kettlebell.  Once you do 5X5 ladders it's time to start over with the next size up.
Later, I was feeling SO CREATIVE I decided to make lunch.
Trader Joe's Paneer Tikka Masala.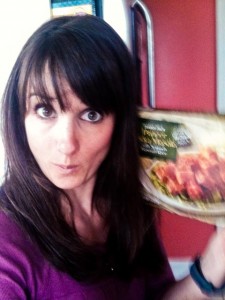 After a busy afternoon hanging on the couch with Meow Cow….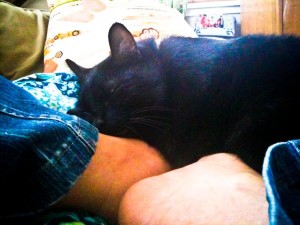 ….I decided to make dinner.
Trader Joe's Paneer Tikka Masala.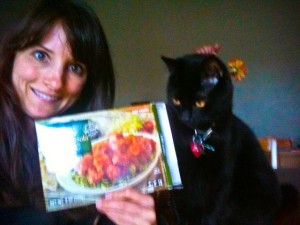 Meow Cow was not impressed.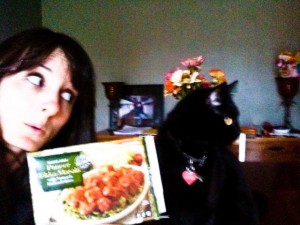 This time I got all fancy and sautéed some squash, onions, and garlic in coconut oil to go with it because I do after all have a refrigerator full of veggies from my CSA.
Not only do Brent and the boys keep me from eating frozen food all the time, they also keep me from being the crazy cat lady.  Sort of.
Hugs and High Fives,
Jenn
If you enjoyed this post please Subscribe to the RSS Feed.
Sign up to have posts emailed to your inbox
Pin It